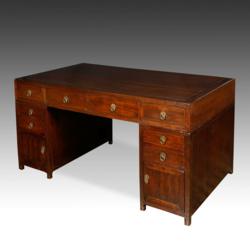 Authentic objects tell stories, and once imagined connect us to other people, places and times.
Chicago, IL (PRWEB) February 15, 2013
Primitive in Chicago just announced the exhibit of a rare Chinese partner's desk, illustrating how Chinese artisans embraced European styling while tempering their creations with a distinct Chinese sensibility. Although the history of Chinese furniture is well documented and extends as far back as 1000 BCE, it wasn't until the 19th century that the influence of European design could be seen or felt in China. During this time bans on imports were lifted in China, allowing for different styles of furniture to be seen. The counterpart to the traditional Chinese calligraphy table was the European writing desk, which was not a part of the Chinese furniture repertoire. One variation of the European writing desk was the partner's desk, first developed in England for use by bankers. The Chinese ultimately adapted the form for their use.
In describing the significance of the desk, Glen Joffe, the owner of Primitive, said, "This particular partner's desk perfectly illustrates how the Chinese adapted Western styling to their own sensibilities. Instead of being large, it is manageable; instead of being ornately carved or ornamented, it is spare and unpretentious; and instead of being grandiose or flamboyant, it is modest. Yet, it still has enormous presence." The piece came about because Chinese artisans were not content to copy Western styles, but instead, allowed themselves to be inspired as they adapted new forms for their own use. The desk's sixteen drawers and four compartments split on either side also illustrate how the Chinese were interested in implementing the functionality of European furniture.
Joffe noted, "Authentic objects tell stories, and once imagined connect us to other people, places and times. We imagined the following story to demonstrate the appeal of the desk." In old China a young married couple started a business selling eggs. They believed they would succeed with hard work, sincerity, and devotion, the same traits they brought to each other. In the beginning, they had nothing. The husband pieced together a table from scrap wood as a desk.
Over time, they prospered and their little table became swamped with paperwork, so they attained a partner's desk. It was a place where they could sit, work, and smile at each other when they weren't dealing with eggs or customers. The desk was modest and well designed. It was made from elm wood and had eight drawers and two compartments on either side.
When the Europeans discovered the endless joys of Chinese cuisine their business exploded. They made a fortune in quail eggs. They moved to a bigger space, but they still sat at their partner's desk. Their family and friends said they should have a bigger desk, one that was carved, perhaps inlaid with jade. They politely said no. The desk made them feel grateful.
After the Boxer Rebellion they decided to retire. They moved back to their ancestral village and built a house by the river. She spent her time gardening. He wrote their story at the partner's desk. When it came time to finish, he and his wife agreed on the last line. He wrote, "I hope whoever sits at this desk will experience a life as wonderful as ours."
About Primitive: Primitive is an established gallery located in Chicago, which presents exclusive as well as one-of-a-kind collections of furniture, artifacts, textiles, jewelry, fashion and artwork from all over the world. Whether you visit in-person or on the web, you will find a colorful mosaic of authentic collections brought from some of the world's hardest to reach places. Everything offered at Primitive has a story, history, purpose and design heritage, and comes from the hand and heart.