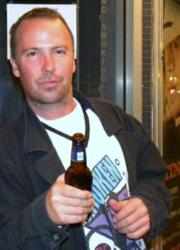 Stanhope has another claim to fame – his Twitter account boasts 134,644 followers – to get an abbreviated view of his comedy and thinking, follow @DougStanhope
San Francisco, Ca (PRWEB) February 18, 2013
Comedian Doug Stanhope, winner of the 20th San Francisco Comedy Competition, will kick-off his "Big Stink" spring tour this Tues., Feb. 19, at Punchline in Sacramento, and Wed.-Thurs., Feb. 20-21 at Cobb's Comedy Club in San Francisco. Tickets are $25 plus tax and fees at http://punchlinesac.com for Feb. 19, and http://cobbscomedyclub.com for Feb. 20 and 21.
"Big Stink" is slang for "a big party." Stanhope considers his "road warrior" tour schedule of 22 tour dates in 14 states in just over 6 weeks of touring as an old-school kind of party.
The ticket price is the same for every tour stop, however, Stanhope fans will pay less in total cost of admission for presale tickets in the cities where Brown Paper Tickets is the ticketing partner. The Not-Just-For-Profit ticketing company offers lower fees than other services, while donating a portion of every admission sold to the type of cause chosen by the ticket buyer at the time of purchase.
Stanhope is one of the most celebrated comedians of his generation, winning some of the world's most prestigious comedy competitions, the feature of several Showtime comedy specials, hosted Comedy Central's "The Man Show," and his own Sirius FM radio show, as well as dozens of national and international standup comedy television specials and even an appearance in a motion picture, "The Aristocrats," alongside George Carlin, Don Rickles and Chris Rock. Doug is a two time winner of Time Out New York's "Best Comedy Performance of the Year," and was selected by both Variety and the Hollywood Reporter as one of the "Top Ten Comics to Watch."
Stanhope has another claim to fame – his Twitter account boasts 134,644 followers. To get an abbreviated view of his comedy and thinking, follow Doug @DougStanhope, or better yet, come see him in person while he is in town.
Stanhope digitally released "Before Turning the Gun on Himself" in March 2012, and it immediately shot to #1 on the Billboard, iTunes and Amazon comedy charts. The live companion CD/DVD is available now -- get it on iTunes or from Amazon.
Stanhope's "Big Stink" tour dates for February and March are as follows:
Feb. 19: Sacramento, CA at Punchline
Feb. 20: San Francisco, CA at Cobb's Comedy Club
Feb. 21: San Francisco, CA at Cobb's Comedy Club
Feb. 28-March 2: Cincinnati, OH at Go Banannas
March 12: Houston, TX at Houston Improv
March 13: Broussard, LA at The Station
March 14: Monroe, LA at Live Oaks Bar and Ballroom
March 15: Little Rock, AK at Juanitas
March 16: Memphis, TN at New Daisy Theater
March 17: Nashville, TN at Zanies
March 19: Louisville, KY at Comedy Caravan
March 20: Bloomington, IN at Comedy Attic
March 21: Bloomington, IL at Laugh Comedy Club
March 22: Burlington, IA at Whitey's
March 23: Springfield, MO at Outland Ballroom
March 24: Oklahoma City, OK at City Arts Center
March 26: Fayetteville, AR at Uark Bowl
March 27: Addison, TX at Addison Improv
March 28: Austin, TX at Red 7
March 29: Corpus Christie, TX at House of Rock
About Brown Paper Tickets: Brown Paper Tickets (http://www.BrownPaperTickets.com), the Not-Just-For-Profit ticketing company, revolutionized the industry by putting free, professional tools for ticketing any-sized gathering on the Internet, and continues to champion the rights of ticket-buyers with the lowest fee for the most service in the industry. The company donates 5 percent of the profit from each ticket sale to build communities and nonprofits, pays its employees to work 40 hours each year for the cause of their choosing, and employs a team of "Doers," experts in industries such as music, new media, makers, roller derby and more, to fix, improve and revolutionize the communities where we live, work and play.