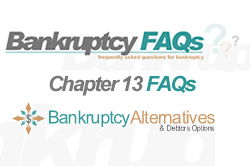 People with debt problems want to find information to help them understand more about their situation and their next steps. Sometimes they want to explore options and learn solutions for their problems anonymously and free.
Pittsfield, MA (PRWEB) February 21, 2013
Chapter 13 Bankruptcy FAQs , a web resource designed specifically for individuals in need of Chapter 13 information and guidance, has been launched by Financial Firebird. The site stands apart from other similar resources because it offers consumers the opportunity to explore options and learn about solutions for their financial problems anonymously and treats both bankruptcy and non bankruptcy options equally. Financial Firebird's goal for this Chapter 13 site is to assist the consumer in being fully informed of their options so that they are able to make the best choice for their particular financial situation.
"Our primary mission involves providing free guidance and education. In general we offer a more in depth volume of information than anyone else," stated Mory Brenner, vice president of Financial Firebird. "Consumers can easily learn who should file for Chapter 13 bankruptcy. No matter how much our competitors may attempt to appear that they offer free help, most of the time their motives revolve around enrolling consumers in their own service. We try to maintain an independence not found elsewhere with more information than anywhere else."
Chapter 13 bankruptcy frequently emerges as the best option for many people to consider during a financial crisis. However, bankruptcy alternatives are important, too, and Bankruptcy Alternatives provides a Chapter 13 vs. Chapter 7 comparison, as well as a Chapter 13 calculator and answers to questions, such as what is Chapter 13 bankruptcy. In addition, people with debt trouble find out about non bankruptcy options including unsecured debt settlement, credit counseling, short sale, deed in lieu of foreclosure, mortgage loan modification and many many more.
"The result for a consumer may be that other bankruptcy sites and subsequent consultations gear themselves as sales sessions more than learning experiences designed to turn a consumer into a bankruptcy client, sometimes with a high pressure hard sell. Our sites guide the debtor to the best route for them," explained Brenner. "In some cases bankruptcy may be the right solution, but we are just as happy if we explore bankruptcy with them only to determine that it does not meet their needs as well as another choice they never knew existed."
The site provides a full selection of answers to questions and a wide range of information, including Chapter 7 bankruptcy, Chapter 13 bankruptcy, bankruptcy alternatives, how to find a bankruptcy attorney, and mortgage foreclosure prevention. Bankruptcy Alternatives is truly the site where consumers can find answers to all of their questions pertaining to Chapter 13 bankruptcy in the United States. Individuals with mortgage payment problems or trouble with unsecured debt will find Bankruptcy Alternatives to be a resource they will highly value, all at no charge. Bankruptcy Alternatives educates the consumer so that he or she is able to make the best decision based on their own personal financial situation.
About:
Chapter 13 FAQs stand as a part of the Bankruptcy Alternatives family of financial information and tools web pages started in 1996 and currently offered by the Financial Firebird Corporation with a goal of providing consumers with free unbiased help from a former debt workout and bankruptcy lawyer in choosing the right path to a brighter economic future.