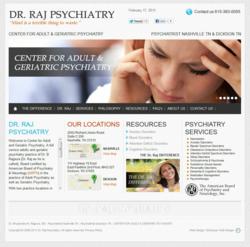 Mind is a terrible thing to waste.
Nashville, Tennessee (PRWEB) February 18, 2013
Psychiatrist in Nashville TN announcing "Center for Adult & Geriatric Psychiatry" new website launch. The Nashville Psychiatrist Dr. Bhupendra M. Rajpura, MD (also called Dr. Raj) is certified by The American Board of Psychiatry and Neurology, Inc. and offers psychiatry services both in Nashville and Dickson Tennessee.
At the Center for Adult & Geriatric Psychiatry there is a difference, the "Dr. Raj Difference". Their new website explains in detail about his unique approach to their Psychiatric services.
Looking into a glimpse of the "Dr. Raj Difference"; Dr Raj is a psychiatric doctor who uses the Holistic Approach. Holistic Psychiatry is the art and science of healing that addresses care of the whole person, body and mind. The practice of holistic medicine integrates all available methods to achieve optimal health, beauty, happiness, productivity and vitality. Dr. Raj said, "We help our patients achieve wellness by integrating expert psycho pharmacology correction of vitamin and hormonal deficiencies, and life style guidance", this is only one of their different approaches to the Psychiatry service.
Dr. Raj is a Psychiatrist in Nashville TN and their practice is also known as the Center for Adult & Geriatric Psychiatry (CAGP). They see each one of their patients as a unique individual, rather than a collection of symptoms and complaints and understand that mental distress is the result of physical, emotional, social and environmental imbalance.
At Center for Adult & Geriatric Psychiatry they are open to help patients in all aspects of their lives and health including such behaviors as: productivity, mood, sleep, happiness, sexuality, appetite, weight, beauty, relationships, parenting, drugs, smoking, alcohol, anxiety, phobias and fears. Dr. Raj said, "We do not have a narrow therapeutic focus or an agenda, but rather we let our patients assign the priorities in their journey to wellness." All appropriate methods may be used, from medications and TMS to psychotherapy and life style change.
CAGP's goal for their Nashville Psychiatry services is to provide the best care possible to all of their patients. They see a patient when they need to be seen and not weeks or months later. They will do everything they can to help a patient navigate through the complexity of today's health care system and they always try to explain medical problems in terms that the patient can understand.
Dr. Raj's has a patient-centered approach which extends to all aspects of their Psychiatric practice. Their patients can count on them to interact on their behalf with insurance companies, pharmacies, family members, employers, hospitals and other health care providers. The Nashville Psychiatrist will coordinate efforts with other medical providers, assist with any referrals and such. Whenever necessary, they can write letters, fill out forms, speak to lawyers and communicate with authorities. At Center for Adult & Geriatric Psychiatry they assure their patients that any services are completely discrete and confidential.
Their new website has everything in more detail along with patient forms and help articles.
Tags: Psychiatrist in Nashville TN, Psychiatrist in Dickson TN
GoHooper.com: Website Design in Nashville