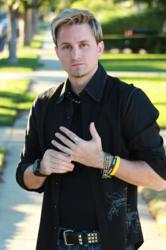 Los Angeles, CA (PRWEB) February 19, 2013
The Pop with Soul sensation Jaysin Voxx has made 2013 come alive with a variety of performances and appearances giving the emerging Pop Star a great start for the New Year.
Starting in January, Voxx performed at the Sundance Film Festival on the Slamdance Stage by an invitation from the venue's official charity, Music Saves Lives. He performed 5 of his songs to a packed house who were enjoying the party atmosphere after the screenings. Dave Grohl, front man for the Foo Fighters debuted his Supergroup 'Sound City Players'; Grohl's Sound City Players includes John Fogerty, Stevie Nicks, Rick Springfield, members of the Foo Fighters and other artists who appear in his documentary "Sound City" that premiered at the Sundance Film Festival.
February Voxx was invited to perform at a private Grammy Gifting Suite Experience. YM & Associates delivered a stellar celebrity-filled event with music, entertainment and high-end gifts to help celebrate the Grammy Awards weekend and promote exclusive high-end products. Held at the Trousdale Estates of Beverly Hills, Voxx shared the stage with Grammy Award-winning new age artist Omar Akram, guitarist Alain Johannes of Foo Fighters' frontman Dave Grohl's "Sound City Players" and Joey Castillo, formerly of "Queens of the Stone Age" and "Them Crooked Vultures". Additional special musical guests in attendance included artists JMParis, Pop Noir, MC Imprint, Aura, Paul Peress and Ralph Dudley.
Coming up for March, Voxx will be playing at Chino Hills High School March 2, 2013 for a benefit concert to help raise money for children who have cleft lips and cleft palette in third world countries. All profits will be donated to the Operation Smile Organization. Operation Smile is an international children's medical charity that heals children's smiles, forever changing their lives.
Ending the first quarter for 2013, Voxx has a special concert planned at the Whisky A Go-Go in Hollywood, California. Voxx and his band will be showcasing their new songs on Tuesday, March 26th raising the excitement for his new album that is planned to arrive sometime in the spring and will be available on iTunes. Tickets are now on sale and can be purchased by logging onto http://jaysinvoxx.eventbrite.com/#.
To promote the show, Voxx will be appearing on the internationally syndicated Blake Aaron Radio Show, Thursday, March 21, 2013 starting at 4pm. Voxx will join Aaron and co-host Tina Anderson; the team is heard live every Thursday from 3-6pm on 88.5 FM KSBR, Cox Channel 967, or streamed over the internet on iTunes or KSBR.org. The Blake Aaron Radio Show can also be heard on the following stations: WVSU/Birmingham, Solar Radio (Satellite radio in the UK and Western Europe), KIHT-HD3/St. Louis, WCHG Radio, CitySoundsRadio.com, OhZone.com (Taiwan) and JazzMatrix.com.
Voxx grew up in the Bay Area which exposed him to the edgier side of R&B and rap, which shows through in his writing, stage presence and energy-filled performances. Now residing in Los Angeles, Voxx has performed at some of the hottest clubs in Hollywood, in front of audiences of 20,000+, as well as private industry parties.
In addition to his strong vocal abilities, he does his own back vocals, stacks and creates intricate harmonies and arranges his songs. He has been chosen by Music Connection Magazine! as one of their TOP 25 ARTISTS and he's teamed up with Konvict Muzik Group to collaborate on the well-received single, "GODDY BODY".
Sponsors are starting to line up for Voxx to endorse various products, one of which is the luxury footwear brand, Vlado Footwear. The brand has already become a celebrity favorite worn by Justin Bieber, Chris Brown, Ne-Yo, Snoop Dogg, Chamillionaire, E-40, Nick Cannon, LL Cool J, Jamie Foxx and several others.
A hardcore performer, Voxx is building a loyal fan base by infusing the rawness of hip-hop with the universal appeal of pop with soul to create something that is not only marketable, but truly unique and transcends genres.
Voxx is finishing his music video for "Cause Everytime" written by Voxx and produced by two-time Grammy Nominee Kenny "Kynne" Smith. A promo of the video can be found here: http://youtu.be/OKEqWVBV5kA
Like Jaysin's fan page at: http://www.facebook.com/JAYSINMUSIC and follow Jaysin Voxx on Twitter at @JaysinVoxx.
For media, interviews and booking appearances please contact: Kelly Bennett, Bennett Productions Unlimited, LLC (949) 463-6383 or at Kelly@BPUnlimited.com
Voxx is now considering Distribution & Label interest.