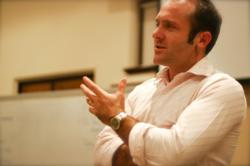 We need to hear the wisdom of our best people.
(PRWEB) February 16, 2013
Educational expert, author and international speaker Jonathan Doyle has released a new weekly interview series for leaders and educators in Catholic education.
Doyle who has delivered live seminar programs for over a quarter of a million people has released the new series to resource more Catholic teachers and leaders in the Church's teaching on key issues.
He states, "Having worked with so many Catholic schools and teachers my sense has been that there is not so much a resistance to key Catholic teachings but rather a genuine lack of knowledge and formation on key topics. When you have the chance to share the concepts in a reasoned and attractive way then people tend to be open to a deeper level of consideration."
The first interview with Principal Andrew Mullins was well received by Doyle's large subscriber base. He comments, "Within a couple of hours we had our first feedback. We received a great post on Facebook. 'Thank you for this Jonathan. I loved it. I found it very beneficial and inspiring as a Catholic school teacher.'"
The full interview can be found at http://www.beingcatholic.com.au