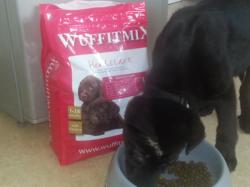 Wuffitmix always endeavour to help rescue dogs
(PRWEB UK) 18 February 2013
This week Wuffitmix announced that they are now sponsoring a young German Shepherd cross called Jimmy. Wuffitmix sell nutritionally balanced dry dog foods and are actively involved in many animal charities as they help animal shelters to give abandoned dogs the care they need.
Known for their work with the Soi Dog Foundation in Thailand, this new sponsorship is actually based in the UK, more specifically at the West Wales Dog Rescue where Jimmy was left with his sister Rosie at just 4 weeks old.
The West Wales Dog Rescue are a small registered charity established in 2000. They offer refuge to unwanted dogs of all types and ages and find them new loving homes after they have been neutered, vaccinated, and micro-chipped and received medical care for any existing problems.
Jimmy is especially notable as when his foster mum, Cara Priestland took him for his first injection she noticed a deformity in his legs. The vet proceeded to take X-rays and referred him to a specialist however the cause is still unknown.
Until he receives his diagnosis, the vet has urged Cara to continue to give him calcium tablets for his bones along with good quality dry dog foods that will ensure he receives the mixture of vitamins and minerals to support his growing needs.
Cara chose to use Wuffitmix puppy food and contacted Hannah Dugdale at Wuffitmix to tell her the story. Hannah says, "When I read about this little fella I was determined to help and WuffitMix are now supplying all of Jimmy's food free of charge until he is well enough to be adopted. Cara tells me that Jimmy is full of attitude and is almost toilet trained. He is continuing to grow quickly and making good progress, now weighing 7kg. He has to have a daily swim in the bath to try and build up some muscle tone and WuffitMix Headstart is brimming with energy, nutrients and everything Jimmy will need to become a big strong boy. We are so happy to hear he is enjoying his food and most of all getting the essential nutrients he needs to help with his leg troubles."
Jimmy's foster mum has tried to take pictures of him as he enjoys his bowl of Wuffitmix puppy food; however his excitement was so much that every picture turned out a little blurry.
Jimmy's sister is also a convert of the dog food online, as she is now rehomed, renamed Dotty and her new mum has changed her diet to Wuffitmix headstart after failing to find a puppy food that satisfied her tastes.
WuffitMix is a range of nutritionally complete diets for working, sporting and domestic dogs - from puppies to seniors. Wuffitmix' is owned by Dugdale Nutrition, a family run animal feed manufacturer based in the North West of England. The business dates back to 1850 and spans over 6 generations, with 2 generations currently working at the company premises in Clitheroe, Lancashire.