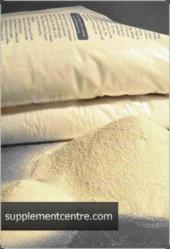 Protein is not harmful, dietitians should make up their mind
(PRWEB UK) 22 February 2013
This week Protein Stop, a leading supplement online store has hit back at dietitians who are claiming that protein does more harm than good. In a report issued by the BBC, the BDA (British Dietetic Association) claimed that high levels of protein can cause unwanted side effects.
A spokesperson also stated that there should be clearer labels detailing ingredients on supplements sold online.
Protein Stop have hit back against this news claiming it to be "utter rubbish", they claim dietitians should make up their mind as one week they encourage dieters to eat more protein to stay fuller for longer and the next they warn against consuming too much.
Andrew Brown of Protein Stop is not worried about the effects of this article on sales as he says, "our customers who buy protein powders are not stupid people, they understand the benefits of protein and they also have full knowledge of the ingredients in all of our products from whey protein to protein bars as we clearly state them not only on the packaging but in more detail on the website too."
In the BBC Newsbeat article it reports that the BDA believe that taking excessive amounts of protein for a prolonged period can cause kidney and liver damage yet there is absolutely no evidence to back this up. In fact manufacturers of protein supplements have stated there only been eleven cases of adverse reaction in as many years which could be due to allergies rather than the protein itself.
As Andrew continues, "I think these warnings apply to those who take far more than the instructions on the packs suggest as they think they'll gain better results quicker. At protein stop, we don't condone this as our instructions and product information is there to enable the consumer to maximise training while staying healthy. We have never received any complaints or news of anyone having an adverse reaction to our protein bars and shakes as we give clear guidelines on how to use each one for the best benefit."
Protein is actually essential for muscle growth, the biggest motivation behind any weight trainer's strict regime.
The Health Food Manufacturers' Association, which represents the supplement industry, says compared to other foods or medicines, gym supplements have an enviable record.
Protein Stop actively urge their customers to get in touch if they need advice on any of their products.
Since 2008 Protein Stop have supplied supplements and powders to those looking to gain weight, maximise muscle, detox or slim. They now stock over 1200 products and have a focused customer service team that ensure excellence across the board along with a fully trained sports science and medical team giving professional advice not just on purchases but also on fitness, training and nutrition too.