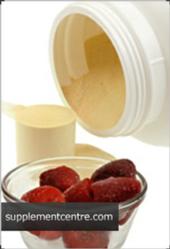 There are so many types of protein powders that it's easy to find one bespoke for your needs
(PRWEB UK) 18 February 2013
This week the Supplement Centre are urging their weight training customers to ensure they have enough protein in their diets after a new study revealed the lack of it could cause high blood pressure.
High blood pressure is a problem many weight gainers have to look out for as they put extra stress on their body to achieve the maximum fitness levels and physique shape. The Supplement Centre however declare that buying their protein powders is simply not enough as this study reveals it is not just the amount of protein that is important but the type of protein too.
This study highlighted that Protein1, the protein for regulating iron in the blood stream is also responsible for reducing anaemia and blood pressure that affects the lungs. For a weight trainer, anaemia could mean the end of their career as it produces fainting, nausea, dizziness and lethargy.
The National institute of Health are actually surprised about the results of the study that was conducted on mice but declare. "Iron regulatory protein 1 detects iron levels in cells and directs either the storage or use of iron, depending on other conditions in the body. In mice, lack of iron regulatory protein 1 result in pulmonary hypertension, a form of high blood pressure that affects the lungs, and to polycythaemia, a rare disorder in which the body produces excess red blood cells."
With these findings the Supplement Centre are now urging customers who buy protein shakes and bars to make sure they choose the right ones to support their own training regime.
Adam Lowther, the founder of the Supplement Centre explains, "Those who buy whey protein here train extensively every day and are reassured that we've brought them the best combination of protein, nutrients and vitamins in order to support them through training. However, we have a wide range of different protein powders, whey protein and bars that support the body in every stage, giving extra energy or a weight gain boost, added vitamins and even iron. We're now urging customers to choose the protein that is right for them not anyone else, so they can create results bespoke to their body type."
Supplement Centre is the UK's premier discount supplements shop. Based in the North West, with over 6,000 square foot we hold a vast array of whey protein, creatine, weight gain, fat loss and many, many other products. Opened in 2001 our fast delivery and excellent customer service soon became a hit, not to mention our super low prices. All top brands of whey protein, creatine, weight gain and fat loss supplement with a huge discount.
For more information please visit http://www.supplementcentre.com