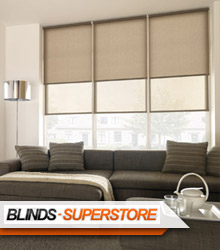 Consumers need affordable design solutions
(PRWEB UK) 18 February 2013
Blinds Superstore are now considered to be the leading duo roller blinds company in the UK. Since making their Lancashire blinds available all across the UK Blinds Superstore have grown considerably and now manufacture a range of their own blinds from their onsite workshops.
Their very own duo roller blinds have already received excellent reviews as they offered a bespoke option to ensure they would fit any sized window. Now they are ready to launch their new window dressing the fabric box range which has an impressive range of colour ways. As the wood Blinds Superstore are usually the leaders in new ways to dress windows, they have ensured that their new range also incorporates this years must have colours.
The Blackouts in the range will be available to buy in contemporary colours such as lime green, luxury purples along with the classics of coffee and cream. The fabric box range also allows customers to choose a print, a scene or a piece of art so they can use their blind as a focal point without decorating the whole room.
Ryan Gladwin, the sales manager of Blinds Superstore explains why this is important, he says, "we believe we received the accreditation of best roller blind manufacturer in the UK as we listened to what our customers wanted. Our "design your own" blind is still very popular, especially for parents with young children as it allows the children to enjoy a scene from a favourite character or TV show without decorating the whole room. Children's tastes change rapidly, usually as soon as the TV starts promoting a new show, so our blinds make it affordable to change their room with them".
This isn't the only news that Blinds Superstore have announced this week as they are about to start selling Roman Blinds alongside their Venetian blinds online, something they've only previously sold in store. They claim that they will continue on their ethos of providing the best quality blinds, the widest possible choice of colours and the most competitive prices.
The Blind Superstore offers an extensive range of window dressings for the discerning consumer. Always seeking the most modern contemporary designs they import the best blinds to sell to interior designers and homeowners. The Blind Superstore also produces their own designs in house, cutting out the middle man and passing on savings to their valued customers. They stock everything from Venetian window blinds to wood blinds to the latest fashion of the duo roller blind.