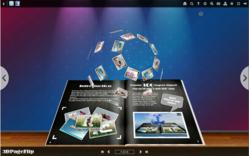 (PRWEB) February 16, 2013
Since 3DPageFlip.com, a professional software company, released its 3D Flipbook Maker, 3D PageFlip Professional, to the market, the company has received many positive comments for this new product. According to Sharry Hou, CEO of the company, their sales turnover has been growing by two-digit percent per month.
The most important advantage of the 3D flip book maker is that users can convert their PDF to flip book with realistic 3D flash effects, improving the optical effect of page flip obviously, from a single dull moment to a fantastic visual feast.
In addition, users can do reading in 360 degree vision by dragging eBook to rotate and spin. They can also read a 3D flipping book on an iPad, iPhone, Windows Mobile, or Android system.
Jackson Lee, an editor user from a London based magazine, said, "I was so surprised that this product is fantastic, and can help create many interesting flipbooks with 3D effects. Furthermore, the price was not expensive and much lower than others'. I will recommend this product to all my editor friends. A great tool it is!"
Besides, 3DPageFlip.com is offering in-depth descriptions, reviews, coupons, and discounts for flip book creators in the market, which can convert all kinds of document formats (like Word, PowerPoint, Images, and so on) to ebooks easily.
About 3DPageFlip.com
Established in 2008, 3DPageFlip.com is a professional provider of eBook creators. The company is famous for its low-cost and handy programs for companies, editors and publishers to produce qualified page flipping flash books.