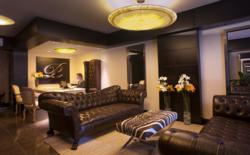 Buenos Aires, Argentina (PRWEB) February 18, 2013
Argentina's three prime destinations will soon offer three new hospitality options, it was announced today by P Hotels, the highly acclaimed U.S.- based operator of luxurious boutique Argentine properties. The hotels will be located in the vibrant Palermo district of Buenos Aires, Mendoza's famed Uco Valley wine country, and inside the gates of the Arelauquen Golf & Country Club in Bariloche.
"We are building on the success of our Palermo Place property in Buenos Aires," said Edward Rubio, CEO of U.S.-based Grupo EMR, which owns P Hotels and developed each of the branded properties. Rubio traveled the world as a financial executive prior to becoming an hotelier. "Of all the countries I visited during my career in the financial sector, Argentina clearly offers the best combination of natural beauty, friendly people, diverse adventure, and exceptional value."
The new Palermo Tower hotel is situated in Palermo Hollywood, Buenos Aires' trendiest neighborhood, and adjacent the Palermo Soho district. It is surrounded by world-class shopping, cultural attractions, a vast number of gastronomic options, and exciting nightlife. Buenos Aires is often referred to as "the Paris of South America" and Palermo Tower puts its guests at the epicenter of activity. Adding to guest convenience, J. Newberry International Airport is only 10 minutes from the hotel's 23 stylish suites. Palermo Tower had a "soft opening" in January with a formal Grand Opening taking place on March 15, 2013. (http://www.palermotower.com)
The 28-suite Auberge du Vin near Mendoza is scheduled for completion in March, 2014. It will be ensconced in a vineyard within Tupungato Winelands, the world's first wine, golf and polo country club. Positioned at the foot of the Andes in the breathtaking Uco Valley, Tupungato Winelands brings private vineyards, polo and golf together harmoniously in the heart of Argentina's famed wine country. Internationally praised for its Malbec varietal, weather and a diverse range of activities, Uco Valley is universally acknowledged as a stunning destination.
Completing the triumvirate is the Arelauquen Lodge in Bariloche. Its 28 atmospheric mountain lodge suites will be available starting in October 2013. Set amidst the spectacular peaks of Patagonia, the Lodge overlooks picturesque Lake Gutierrez and the Arelauquen Golf & Country Club, which boasts the best golf course and polo club in the region. Cerro Catedral, South America's largest and most famous ski resort, is only ten minutes away. Its 38 lifts offer an incredible 1150 meters (3,773 feet) of vertical descent and 1200 hectares (2965 acres) of skiable terrain -- during the North American summer!
Once all of the new hotels are completed, Rubio predicts many of his guests will want to experience the "Big 3" during one Argentine vacation. "Each location is spectacular and unique and they are all within easy reach of each other," he said. "The P Hotel circuit will be an incredible Argentine experience."
For those with a larger appetite for the delectable Argentine lifestyle, Rubio is offering a worry-free, no-hassle way to own real estate in all three locations. He has teamed up with DCP International, which pioneered the luxury residence club concept, to create The Residence Club of Argentina. The Club's members have an equity interest in suites within each of the new P Hotels and unlimited use, subject only to use by other members. One of the most attractive aspects is that the P Hotel staff takes care of all the ownership responsibilities and makes each Argentine vacation seamless, whether the visit incorporates one or all three of the Club locations. (http://www.residenceclubofargentina.com)
"The only thing our members have to worry about is when they are returning for another amazing vacation," Rubio said.
For more information on P Hotels or the Residence Club of Argentina contact Jim Wallander at (469) 867-4686.