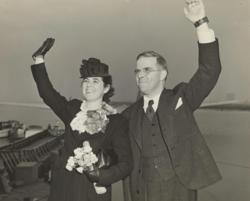 (PRWEB) February 17, 2013
The documentary Two Who Dared: The Sharps' War, will be featured on February 17th at 7 p.m at the Jewish Community Center, 2000 Hollywood Drive, York Township as part of a grassroots effort to screen the film in community churches, synagogues, theaters and schools.
Two Who Dared: The Sharps' War tells the story of a Unitarian minister, Waitstill Sharp, and his wife, Martha, who left their children in Wellesley, Massachusetts days before the Nazi invasion of Czechoslovakia to help save Jewish refugees and children being persecuted in Europe.
"I first learned of my grandparents' legacy as a 9th grader assigned to interview someone of moral courage," said Artemis Joukowsky III, the film's director, and grandson of the Sharps. "My mother had recommended speaking to my grandmother, and I was initially skeptical. I discovered my grandmother and grandfather had a dramatic history of underground espionage, working to rescue refugees and opposing the Nazi regime, in the service work that they had performed during World War II in Europe in 1939 and 1940."
The documentary is told from the point of view of Martha and Waitstill, drawing on their recorded interviews, letters and unpublished memoirs, and includes interviews with rescued children and noted Holocaust scholars.
The film will premiere at the Boston International Film Festival on April 14th at 1pm at the Lowes Cineplex / AMC on Tremont Street.
Over 40 public screenings will follow at venues around the world, including Israel, France, London, Toronto, Los Angeles, New York and Boston.
Two Who Dared has received a number of awards in 2012 including the Special Jury Prize from the Amsterdam Film Festival; Official Selection, River's Edge Film Festival, and Redemptive Storyteller Award, Redemptive Film Festival. Visit http://www.TwoWhoDared.com.