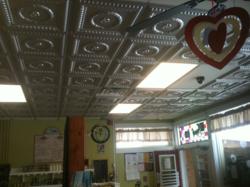 It looks unbelievable - Andrew Doud
(PRWEB) February 26, 2013
Established in 1884, Doud's is the oldest family-owned food market in America. Doud's is located on beautiful and historic Mackinac Island, Michigan, with an additional location just across the water near the ferry port in St. Ignace.
Doud's is a full-service food market that carries the famous delicious Mackinac Island fudge, as well as a deli that provides freshly made sandwiches, salads, and pizza. The store also has a full line of beer, wine, and spirits and provides catering for picnics, parties, and wedding receptions.
Doud's is open from 7:30 am to 11:00 pm daily.
For the restoration of its historic Island location, made famous in the film, "Somewhere in Time" starring Jane Seymour and Christopher Reeve, Doud's has selected DCT's 210 Laurel Wreath tile. One of DCT's most popular products, these tiles have been used in private residences as well as commercial installations such as pubs and wedding reception halls. Photos of these and other installations can be seen on the decorativeceilingtiles.net website.
Doud's Market can be contacted at:
7260 Main Street
P.O. Box 1996
Mackinac Island, MI 49757
Telephone: 906 847-3444
Fax: 906 847-0333
email: info(at)doudsmarket(dot)com
Additional photos and information about Decorative Ceiling Tile products can be located on the DCT website http://www.decorativeceilingtiles.net and the DCT Facebook page https://www.facebook.com/DCTiles, as well as on the DCT Houzz page http://www.houzz.com/pro/milan-jara/decorative-ceiling-tiles-inc.
Decorative Ceiling Tiles' products have been prominently featured in the television broadcast sets of the Emmy® Awards and the American Country Awards. Other creative uses for these decorative tiles include photography backdrops and floors, as well as headboards for beds.
With headquarters in Florida and distributors and installers throughout the United States and select overseas locations, Decorative Ceiling Tiles.net is the online leader in the sales of decorative ceiling tiles.