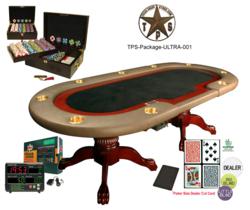 More advanced players or players running tournaments may want a poker table and a tournament timer
College Station, Texas (PRWEB) February 18, 2013
One of the things the Texas Poker Store takes pride in is the way it responds to the requests of its customers. "When our customers ask for something, we do everything in our power to accommodate them,' stated Jim Paris, owner and chief dealer. "That's why we've decided to come out with our own pre-packaged tournament sets; we've had enough requests that it seemed like the logical thing to do."
In the past few months, The Texas Poker Store has had several requests to put together a tournament package. One was for an elite auction at a major charity event and it was a high-end prize.
"Basically," Paris said," we chose the best products that we carry at the Texas Poker Store, added up the total value and delivered the luxury package. A month later we volunteered to donate a tournament set to a student-run organization and wound up doing the same thing, only on a less expensive scale for fewer players.
During the same period, Paris fielded calls and answered emails about the essential poker supplies necessary to run tournaments, or just to start hosting poker games. Customers wanted to know what they needed to buy in order to be ready to go.
"We already carried a few very basic sets that were perfect for a beginner, or maybe a college student who wanted to have friends over for a poker night. But we decided to expand upon that and put together some custom packages for more experienced players," said Paris.
"We are now carrying a variety of pre-packaged sets, with one guaranteed to fit the specific needs of the wide variety of poker players we encounter. Every set contains what is needed to get started. The differences, said Paris, are in the details.
"For example, casual or beginning players can get away with an inexpensive set that includes a set of poker chips, poker cards, a dealer button and a green table felt or a folding table top," Paris said. "More advanced players or players running tournaments will want a poker table and a tournament timer."
Poker tables can be anything from a poker table top that sits on a conference room or dining room table, to a folding poker table to a standard poker table. "Of course, there are always those who want the very best," added Paris, "So we have put together a luxury package for our most discerning customers."
The Texas Poker Store has designed the package sets to make it easy on their customers, and many will enjoy the simplicity and convenience of ordering a complete set with one click. However, as Paris noted, "There is no package that can't be further customized to meet a specific poker player's preference.
"Think of it the same way as substituting french fries for the baked potato listed on the menu.If you email or call, we will always be glad to switch out the standard chips in the package with premium Paulson chips if those are your personal favorites. And of course, individual items can always be added to any package," said Paris.
About Texas Poker Store
Located in College Station - Bryan, Texas, the Texas Poker Store is a fully-stocked online poker store that offers 100 percent secured shopping and features hundreds of poker supplies. The Texas Poker Store was founded by Poker Lovers and Die Hard Players, Jim and Lynn Paris. We live in Texas, we play Texas Hold 'em and we welcome you to visit our store. You can find the Texas Poker Store at http://www.texaspokerstore.com, visit their blog at http://www.texaspokerstoreblog.com, and follow them on Twitter, FaceBook and on Pinterest.
Jim Paris
Chief Dealer
Texas Poker Store
302 N. Bryan Street
Bryan, Texas 77840
1-866-213-1594
979-595-7390