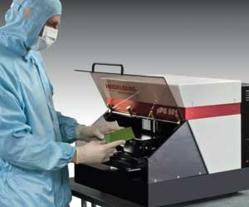 This award is a tribute to all employees at Heidelberg Instruments Mikrotechnik GmbH and their constant striving to make a difference through innovation.
Heidelberg, Germany (PRWEB) February 19, 2013
Heidelberg Instruments Mikrotechnik GmbH, a world leading manufacturer of Laser Lithography and Maskless Aligner systems, is proud to announce that it has won the 2013 International Prism Award for Photonics Innovation in the category of Manufacturing for its µPG501 Maskless Aligner System.
Designed with the focus on high performance at an affordable price, the µPG 501 is the perfect solution for prototyping such as MEMS, integrated Optics, microfluids, and Lab-on-a-Chip devices.
"This award is a tribute to all employees at Heidelberg Instruments Mikrotechnik GmbH and their strive to make a difference through constant innovation. For low and mid volume micro fabrication and prototyping, µPG501 Maskless Aligner System offers a compelling cost of ownership advantage. The current standard process is to have a photomask made, followed by transferring the pattern to the silicon wafer using a mask aligner, a time-consuming and expensive process. The µPG501 enables direct transfer of patterns thus eliminating the need of photomasks and traditional mask aligners, shortening the prototyping time as well as saving significant cost. The reception to this tool by research institutes has been phenomenal," states Alexander Forozan, Head of Global Sales and Business Development
About the Prism Awards: The Prism Awards for Photonics Innovation is a leading international competition that honors the best new photonic products on the market. Over the years, the Prism Awards has received applications from more than 35 countries across the globe. Applications are judged by a panel of leading industry experts, venture capitalists, luminaries and visionaries. The finalists and winners that are ultimately chosen (from General Electric, Agilent, Hamamatsu to Swamp Optics, Optotune, WiTec) reflect the diversity of the program. Since 2008, SPIE and Photonics Media have been working together on this award. Our goal is to bring attention and give recognition to companies that are creating products that make a difference. As we move forward, the award program continues to grow and bring greater value to all participants, finalists, winners, judges and presenters. The Prism Awards, named the "Photonics Oscar" by OptecNet Deutschland, is a celebration of the best of our industry. It takes place every year in conjunction with SPIE Photonics West in San Francisco, California.
About Heidelberg Instruments Mikrotechnik GmbH: With an installation base in over 40 countries, Heidelberg Instruments Mikrotechnik GmbH is a world leader in production of high precision maskless lithography and maskless aligner systems. These systems are used for direct writing and photomask production by some of the most prestigious universities and industry leaders in the areas of MEMS, BioMEMS, Nano Technology, ASICS, TFT, Plasma Displays, Micro Optics, and many other related applications.
Heidelberg Instruments Mikrotechnik GmbH
Email: info (at) himt (dot) de
Phone: +49 6221 3430 0
http://www.himt.de