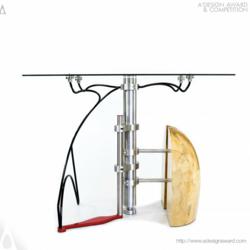 Como, Italy (PRWEB) February 17, 2013
Arts, Crafts and Ready-Made Design Competition Golden A' Design Award Prize Winner
A' Design Award and Competitions are proud to communicate that the table Organica by Fabrizio Constanza has been announced as a winner of the prestigious Golden A' Design Award in Arts, Crafts and Ready-Made Design Category elected as a winner by the international jury members of the A' Design Awards & Competitions within numerous works.
Details of Organica table
Fabrizio Constanza is creator of the winning design tells that Organica is conceived as an entrance hall table for a private art gallery. It was designed to be a utilitarian sculpture. Organica unifies multiple materials such as glass, stainless steel, aluminum, and wood, into a harmonic composition of shapes and forms. Just like in the human body, every single component is essential for the structural stability of the furniture piece. Artistically, the composition is a balance interaction betweenmultiple components presented in a weight (heavy and light), time (contemporary and traditional) and motion (static and fluid).
Learn more about the award winning design: http://www.adesignaward.com/design.php?ID=27250
The Golden A' Design Award
The Golden A' Design Award is a prestigious award given to top 3% percentile designs that has exhibited an exemplary level of greatness in design. The designs are judged by a panel of three different jury which is composed of Academic, Professional and Focus Group Members. The designs are evaluated with score normalization to remove any biases and are voted on aspects such as functionality, ergonomics, engineering, presentation, innovation, usability, fun details, technology, and any other specific points that could be considered, each of these points are further weighted for different jury groups.
About A' Design Award and Competitions
A' Design Award and Competition aims to highlight the excellent qualifications of best designs, design concepts and design oriented products. A' Design Award and Competitions are organized and awarded annually and internationally in multiple categories to reach a wide, design-oriented audience. Learn more at: http://www.whatisadesignaward.com