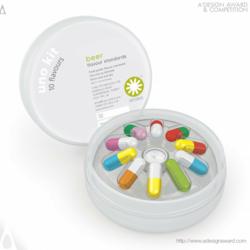 Como, Italy (PRWEB) February 17, 2013
Packaging Design Category's Golden A' Design Award Winner
A' Design Award and Competition is happy to inform that the project Aroxa by designer Lucy O'Brien from Kinneir Dufort won the famed Golden A' Design Award in Packaging Design Category elected as a best design by the esteemed judging committee of the A' Design Awards & Competitions among a great number of works.
More information on Aroxa project
Lucy O'brien from Kinneir Dufort is designer of the awarded project Aroxa. She developed a brand and packaging keeping the range of flavors as the heart of design. The AROXA™ logo represents a sensory explosion and reflects the distinctive placement of capsules within the primary pack. This strong relationship between the logo and product provides an iconic, scientific and ownable identity, whilst the introduction of a tray to hold each capsule in place improves protection for the capsules, enhances the user experience and increases the perceived value of the product.
Learn more about this design: http://www.adesignaward.com/design.php?ID=27643
The Golden A' Design Award
The Golden A' Design Award is a prestigious award given to top 3% percentile designs that has exhibited an exemplary level of sublimity in design. The designs are judged by a panel of three different jury which is composed of Academic, Professional and Focus Group Members. The designs are evaluated with score normalization to remove any biases and are voted on aspects such as functionality, ergonomics, engineering, presentation, innovation, usability, fun details, technology, and any other specific points that could be considered, each of these points are further weighted for different jury groups.
About A' Design Award and Competitions
A' Design Award and Competition aims to highlight the excellent qualifications of best designs, design concepts and design oriented products. A' Design Award and Competitions are organized and awarded annually and internationally in multiple categories to reach a wide, design-oriented audience. Learn more: http://www.whatisadesignaward.com