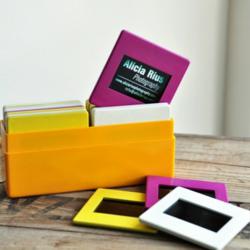 Como, Italy (PRWEB) February 17, 2013
Graphics and Advertising Design Category Platinum A' Design Award Winner
A' Design Award and Competitions are proud to announce that the project of Alicia Rius Photography business cards by Arnau Bosch Verges has been honored with the notable Platinum A' Design Award at Graphics and Advertising Design Category and elected as one of the winners by the esteemed arbiters of the A' Design Awards & Competitions within a great number of works.
Details of Alicia Rius Photography project
Arnau Bosch Verges idea for Alicia Rius business card came from her meeting with Steve McCurry from Magnum Photos since Alicia wanted to have something highly unique. Arnau created a positive photographic picture that is mounted on a plastic frame painted in different colors so people who Alícia would understand her as a person and photographer without even reading the text on the business card.
To learn more visit: http://www.adesignaward.com/design.php?ID=26642
The Platinum A' Design Award
The Platinum A' Design Award is a prestigious award given to top 1% percentile designs that has accomplished an exemplary level of quality in design. The designs are judged by a panel of three different jury which is composed of Academic, Professional and Focus Group Members. The designs are evaluated with score normalization to remove any biases and are voted on aspects such as functionality, ergonomics, engineering, presentation, innovation, usability, fun details, technology, and any other specific points that could be considered, each of these points are further weighted for different jury groups.
About A' Design Award and Competitions
A' Design Award and Competition aims to highlight the excellent qualifications of best designs, design concepts and design oriented products. A' Design Award and Competitions are organized and awarded annually and internationally in multiple categories to reach a wide, design-oriented audience. To learn more visit: http://www.whatisadesignaward.com