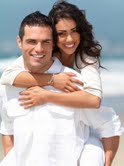 For salon or spa owners it's a great way to add teeth whitening services without the cost of training and purchasing inventory and additional insurance
Columbus, Ohio (PRWEB) February 18, 2013
Abella Ultra-White will soon be offering their products and services at Salons and Spas in the Central Ohio area. Professional Cosmetic Teeth Whitening is new to the Columbus, Ohio market and the front-runner is undoubtedly Abella Ultra-White. In business since March of 2012, Abella Ultra-White has done the ground work and has the experience and trust that customers expect when it comes to whitening their smiles.
With regular pricing for in-office teeth whitening at dentist offices costing upwards of $800, Abella Ultra-White offers an affordable alternative for consumers. "We have made the decision to partner with local salons and spas, so that more people can benefit from our products and services", said Bruce Deitrick, owner of Abella Ultra-White. "For salon and spa owners it's a great way to add teeth whitening services without the cost of training and purchasing inventory and additional insurance."
What makes Abella Ultra-White so appealing to the consumer is because of the price and effectiveness of their product. Using a whitening gel that is made with Organic, Plant and Mineral based ingredients and manufactured in the USA, sets Abella Ultra-White apart from their competition. Selling products that are "made" in the USA can mean that they get the materials from out of the country and then make their product here. There is a big difference between "made" in the USA and "manufactured" in the USA.
"We look forward to working with local salon and spa owners to give more people a whiter brighter smile" said Deitrick. It looks like there will be a lot more white smiles in Columbus Ohio in the near future.
About Abella Ultra-White, Advanced Teeth Whitening
Abella Ultra-White is a Columbus, Ohio teeth whitening company who provides an alternative to going to a dentist for safe and effective teeth whitening products and services. You can learn more about Abella Ultra-White on their website at http://www.AbellaUltraWhite.com.