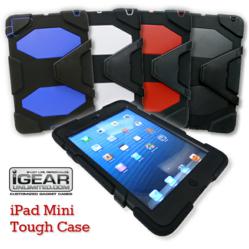 iGear's Tough Case is built like a tank and offers hands-down the best iPad protection in the industry... and personalized protection for individuals, businesses, and businesses.
Chicago, IL (PRWEB) February 22, 2013
Businesses that have deployed iPads with Apple's official Smart Cover have learned an expensive lesson. The Smart Cover is a one-trick pony - it only protects the iPad's front screen when it's not in use. In an article titled iPad 2 Smart Covers: dumb at protecting from damage, author Raymond Wong correctly points out the Smart Cover is useless and doesn't offer any protection for daily use.
Some businesses are dealing with the problem by purchasing a protection plan from Apple, or purchasing more protective cases for their iPads, or both. To ensure the deployment goes smoothly and minimize delays and administrative burdens, the best practice proved to be the use of a rugged case that protects the iPad no matter what happens.
Companies are also looking for every opportunity to create additional touch points with their customer, by displaying their logo or product images as often as possible. The iPad is an excellent candidate for such branding because the device itself is a good conversation starter. However, businesses looking for customized iPads had very limited options – customizable cases are usually flimsy and don't offer any screen protection, and businesses often have to choose between good protection or good branding.
A rugged case protected an iPhone dropped at a second floor window to a concrete driveway, and the phone escaped unscratched, while recording video the whole time. It's called Tough Case made by iGearUnlimited, and now the company is bringing the same design and protection to the iPad and iPad Mini.
The Tough Case offers multi-layer protection using a combination of (1) an outer soft rubber shell, (2) an inner polycarbonate hard case, and (3) a clear lens which covers the screen. This case is supremely shock absorbent and since all buttons and ports are tightly sealed, the Tough Case provides rain and splash protection, while giving the user full access at the same time. The handy grip offers a convenient way to hold the iPad with one hand, and also functions as kickstand for movie watching.
This rugged iPad case can be customized using the any logo artwork or photo image. Popular customization artwork include brand logos, product images, sponsor logos, asset tracking information, and even personalized photos from each user.
"iGear's Tough Case is built like a tank and offers hands-down the best iPad protection in the industry." says Jimmy Sun, president of iGearUnlimited.com. "... and the new customization option opens the door to personalized protection for individuals, schools, and businesses."
The Tough Case is available from iGearUnlimited.com for iPad 2/3/4 and iPad Mini. Businesses should contact the company directly for special discounts on bulk orders. iGear also makes a folio style photo hard case that allows the entire front cover to be customized.
About iGearUnlimited.com
iGearUnlimited.com is powered by Sunrise Digital, an Inc. 5000 company established in 1988 and employs the most advanced equipment and technology, such as G7-certified HP Indigo and UV flatbed presses, and digital die-cutting, to create best-in-class products. A privately-owned enterprise, the company is based in Chicago and sells products worldwide.