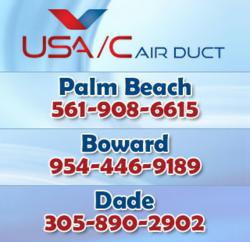 Don't wait until it's too late!
Miami, FL (PRWEB) February 17, 2013
Dust mites leave a residue behind them, in fact it's a film known as peritrophic membrane. This membrane is what makes many people sick are berthing in. In fact, most homes have house dust mites. They live not in our skin but in the residues that skin leaves behind. USA/c air duct offers clients the ability to fully clean air ducts, making dust mites a thing of the past.
Many studies have shown that the number one cause of asthma is due to unhealthy air, and mainly from dust mites. Cleaning the air ducts will help to relieve asthma like symptoms. In some cases dirty air ducts can cause bronchitis, breathing issues, and in many cases viral infections. Air duct cleaning is imperative to help maintain the health of your home. Air duct cleaning eliminates odors in your home but in the air as well. Many are breathing in more dirt than is necessary.
A team of HVAC trained specialists that work exclusively with air duct cleaning have been trained. Clients are advised to clean their air ducts if there are smokers in the house, there are pets that shed large mounts of dander and if they suffer from allergies or asthma. Breathing easier can be done if the home or commercial business area is clean and clear. Being free of asthma, bronchitis, and musty odors can cause a terrible living circumstance for many people.
USA/C Air Duct cleaning services collect a myriad amount of contaminants In fact, mold, bacteria and other fungus can actually cause harm. The company installs, repairs and services air conditioners, and more. USAC-AIR provides clients with free services calls for all new clients. South Florida is home to USAC-AIR one of the largest air duct cleaning companies in the area.