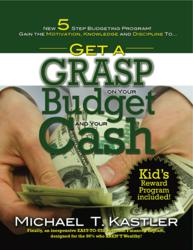 It's time for families to "Get a GRASP!"
Clarkston, MI (PRWEB) February 19, 2013
Today Kastler Consulting Group announces its latest version of the family-focused financial planning software they call the Family Financial Solution Series (FFSS). As families struggle with budgeting, retirement planning and meeting goals, many turn to financial software tools for assistance. Popular but aging software tools on the market can't keep up with the 'wow factor' of the latest smartphone financial apps, yet many of those apps can't provide the full functionality required for a thorough financial plan. Here's where Kastler enters the market with FFSS version 2.0, a program that not only looks great, but fully functional for the entire family and reports that would be the envy of any financial planner. Although still requiring a PC or laptop to perform, the program is very easy to operate and priced appropriately for any working adult or family seeking a do-it-yourself financial planning tool.
"What sets our software program apart from the competition," according to Mike Kastler, Founder of Kastler Consulting Group, "is that we have taken a complicated process of end-to-end financial planning process and made it as simple as possible. We start with family values on money and setting strategic goals before we even begin the financial planning process."
Various government funded organizations and non-profits such as the President's Advisory Council for Financial Capability (PACFC) and the National Endowment for Financial Education (NEFE) focus their efforts on bringing financial literacy to families, especially kids. This is where Kastler's program shines, with various modules age-grouped for kids and several other apps assisting with financial literacy. If your family needs help beyond just basic budgeting, look to an integrated family solution with tools for analyzing home buying comparisons, car lease vs. buy scenarios and Time Value of Money tools to further educate your family before financial decisions are made.
"By focusing on financial tools to assist families with every day decisions," offers Kastler, "We separate ourselves apart from our competition and position our customers with knowledge to make intelligent decisions." One could hardly argue, looking at a sample report generated from Kastler's Working Adult web page. Adds Kastler, "Our financial wellness report provides 18 different metrics to give the client's full financial picture. A typical Financial Planner or Accountant would charge about $250 to generate this type of report. Now a client can learn how to generate the report themselves and impress just about anyone."
About Kastler Consulting Group
Kastler Consulting Group, LLC is a Michigan-based company with a mission of "Building Stronger Individuals, Communities and Businesses," through financial literacy and financial wellness tools and services.
Michael T. Kastler is the founder, a Budgeting Coach, developer of the Family Financial Solution Series, and author of a personal finance book, "Get a G.R.A.S.P. on Your Budget and Your Cash." His budgeting money tips blog that helps individuals become financially literate, debt free and meet their financial goals can be found at http://www.budgetingmoneytips.com