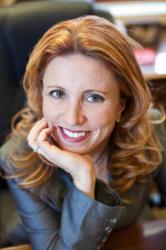 Steve Nagy announced Agent of the Year for a 2nd year is Elizabeth Dipp Metzger.
El Paso, TX (PRWEB) February 16, 2013
Elizabeth Dipp Metzger was named Agent of the Year for the second year in a row in the El Paso General Office of New York Life Insurance Company, Steve Nagy, managing partner of the office, announced today. Lizzie Dipp Metzger received the award in recognition of outstanding sales achievement and exemplary client service and professionalism.
Ms. Dipp Metzger has been a New York Life agent since 2010, and is associated with New York Life's El Paso General Office in El Paso, TX. Elizabeth Dipp Metzger has a degree from Pomona College where she achieved a B.A. in International Relations. She is an Advisory Member on the Board of the Paso del Norte Children's Development Center. She is also a member of the National Association of Insurance and Financial Advisors and the El Paso Estate Planning Council.
Elizabeth Dipp Metzger has won various accolades including Million Dollar Round Table 2011, (MDRT is recognized as the standard of excellence in life insurance sales performance), Life Producer Award with New York Life in 2010, Long Term Care Foundation Award with New York Life in 2010, 2010 New Org Agent of the Year with the El Paso general office of New York Life, and El Paso Chapter – NAIFA rookie of the year for 2010 and 2011.
Lizzie enjoys helping people meet their financial goals. With experience as an advisor and over 10 years of previous experience as a business owner, Lizzie understands the financial challenges most individuals and business owners face today and works diligently to research and provide the right solutions for them. Lizzie focus is families, business owners, and the affluent market in providing planning for retirement, college, estate, and business planning.
Lizzie is a proud member of the El Paso, Texas community. She has been married for 12 years and is a proud mother of three children. Lizzie can be reached via phone at 915-541-3338 or email emetzger (at) ft.newyorklife (dot) com. Please visit Ms. Dipp Metzger's Web site at http://www.lizdippmetzger.com. Financial Adviser offering investment advisory services through Eagle Strategies LLC, a Registered Investment Adviser.
New York Life Insurance Company, a Fortune 100 company founded in 1845, is the largest mutual life insurance company in the United States* and one of the largest life insurers in the world. New York Life has the highest possible financial strength ratings currently awarded to any life insurer from all four of the major credit rating agencies: A.M. Best (A++), Fitch (AAA), Moody's Investors Service (Aaa), Standard & Poor's (AA+).** Headquartered in New York City, New York Life's family of companies offers life insurance, retirement income, investments and long-term care insurance. New York Life Investments*** provides institutional asset management and retirement plan services. Other New York Life affiliates provide an array of securities products and services, as well as retail mutual funds.
Please visit New York Life's Web site at http://www.newyorklife.com for more information.
*Based on revenue as reported by "Fortune 500, Ranked within Industries, Insurance: Life, Health (Mutual)," Fortune magazine, May 21, 2012. See http://money.cnn.com/magazines/fortune/fortune500/2012/faq/ for methodology.
**Source: Third Party Ratings Report as of 6/22/12.
***New York Life Investments is a service mark used by New York Life Investment Management Holdings LLC and its subsidiary, New York Life Investment Management LLC. # # #BATES# 307304
Contact: Emily Loya 915-534-3200