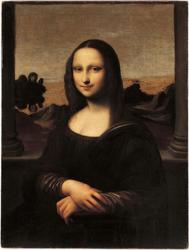 (PRWEB) February 17, 2013
To satisfy customers' curiosity of latest news of "young edition of Mona lisa", the renowned online art gallery artisoo.com(http://www.artisoo.com/) release the painting reproduction of young Mona Lisa - Isleworth Mona Lisa. To realize the dream that everyone could buy a masterpiece at an affordable price, the artisoo gallery promotes the new masterpiece replica. What is the latest development of the "Young version of Mona Lisa"?
Art experts have confirmed that a painting dubbed the 'Isleworth Mona Lisa' is an earlier version of Leonardo da Vinci's 16th century masterpiece.
The Swiss-based Mona Lisa Foundation commissioned a number of tests, including carbon-dating of the artwork and geometry analysis, which they say prove the painting is the work of the Italian master.
The Isleworth Mona Lisa was so-called because it was discovered in a country house in the town in west London in 1913.
But some art experts doubted its authenticity when it was unveiled in Geneva last September.
In silencing the critics, vice-chair of the Mona Lisa Foundation David Feldman said: "When we add these new findings to the wealth of scientific and physical studies we already had, I believe anyone will find the evidence of a Leonardo attribution overwhelming."
Mr Feldman, an Irish-born international art and stamp dealer, said he was contacted after the public unveiling of the portrait - which shows a much younger woman than in the Louvre - by Italian geometrist Alfonso Rubino.
"He has made extended studies of the geometry of Leonardo's Vitruvian Man" - a sketch of a youth with arms and legs extended - "and offered to look at our painting to see if it conformed," Mr Feldman added.
Mr Rubino concluded that the painting matched da Vinci's geometry and must be his.
Further tests on the canvas of the painting found that it was almost certainly manufactured between 1410 and 1455 - refuting claims that it was a late 16th century copy.
Documents show that Florentine nobleman Francesco del Giacondo initially commissioned da Vinci to paint a portrait of his wife Lisa.
In French, the Louvre version is known as "La Giaconde" and "La Giaconda" in Italian.
Supporters of the "younger" version say it was almost certainly delivered unfinished to del Giacondo before da Vinci left Italy in 1506 and took up residence in France, where he died in 1519 in a small Loire chateau.
From the Giacondo house, it probably eventually found its way to England after being bought by a travelling English aristocrat, this account runs, while the Paris version was probably painted by Leonardo in around 1516 in France.
According to Vincent Zhou, CEO of Artisoo gallery, the above is the latest news about Isleworth Mona Lisa, and there is a connection between sales and media placement. "A lot of people like to keep up with the latest trends in design, and the media is a key influencer in what is deemed hip and desirable. That is why we promote the new oil painting replica, Isleworth Mona Lisa. "
In the past three years, Artisoo.com sold hundreds of thousands of paintings, including Chinese painting, oil painting replica and custom painting. They are one of the Web's most successful distributors of home décor item with over 5,000 daily visitors and 10,000 loyal customers.