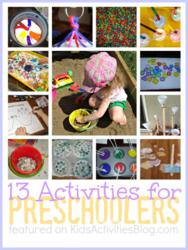 Let the preschooler have fun with pipe cleaners and Cheerios while introducing basic math concepts.
Dallas, Texas (PRWEB) February 18, 2013
A list of over 13 fun activities for preschoolers and educational preschool activities have been released on Kids Activities Blog. These activities are easy to do, inexpensive, and sneak in learning while having lots of fun at home.
Among the favorite preschool activities are creating salad spinner paintings, making gem light catchers, popping colorful popcorn, and making cool baking soda and vinegar experiments that will delight the preschoolers heart as well as amaze older siblings.
Sensory activities include painting with shaving cream, making sandy play doh, and sand and water bead games.
Educational preschool activities include painted fingernail counting games, playing with funnels and tubes and of course water, and building beaded wine chimes.
Making an eatable Cheerios pipe cleaner bracelet will keep the preschooler busy for hours. He or she will love to count, make patterns, and practice essential motor skills by placing Cheerios, even Fruit Loops, on colorful pipe cleaners. Counting, making patterns, and easy addition and subtraction games can be introduced during this fun preschool activity. Do not forget to eat along the way.
For detailed instructions and additional fun activities for preschoolers, check out Kids Activities Blog. Come get inspired to get the preschoolers learning the fun way.
About Kids Activities Blog
Kids Activities Blog is a website created by two moms (who collectively have 9 children), Rachel Miller and Holly Homer from June Cleaver Nirvana. It is their daily goal to inspire parents and teachers to play with kids. This interactive website publishes simple things to do with kids twice a day. Kids Activities Blog is a great tool for moms and teachers to find kid-friendly activities that create memories and sneak learning into the fun.