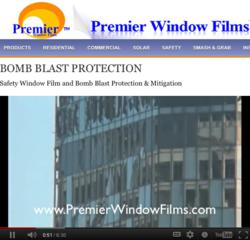 Rigorous tests, including bomb-blast tests, prove that Armorcoat treated glass stays in the frame under the most extreme conditions, keeping glass in place
Bethesda, MD (PRWEB) February 21, 2013
More than 1,000 people were injured on Friday when a meteorite exploded over central Russia, producing a shower of fireballs and a shock wave that wreaked havoc on buildings and blew out windows, causing widespread damage. The vast majority of the injuries were caused by flying glass, highlighting the importance of taking preventative measures to protect buildings with window safety film that holds glass in place during explosions, storms and natural disasters.
Russia's Academy of Sciences reported that the meteorite weighed about 10 metric tons and exploded 19-31 miles above ground with the power of a small atomic weapon blast. The Interior Ministry reported that the unusually powerful explosion triggered a sonic boom.
When the meteorite exploded early in the morning, it sent shock waves across a wide area, blowing out windows in Chelyabinsk's central Lenin Street, buckling shop fronts and shaking apartment buildings, as well as setting off car alarms and disrupting cell phone networks. Most of the 1,200 people injured in the blast, including 200 children, were hit by flying shards of glass, according to the Interior Ministry.
A new video, "Bomb Blast Protection – Safety Film," focuses on the protection of windows in office buildings through a new technology called Armorcoat Safety Window Film, which defends personnel and property from the hazards of broken glass. Airborne glass shards injure and kill people in office buildings while damaging property in and around the area of a natural disaster or terrorist attack.
In the United States, airports, schools, corporations and government agencies including the U.S. Energy Department and Federal Bureau of Investigations headquarters are using the clear film to contain glass, hold it in place and keep broken glass from flying in the event of a bomb blast or natural disaster from extreme weather, hurricanes or earthquakes. The U.S. Capitol and a number of other government buildings began using the protective window film after the Sept. 11 attacks on the Pentagon and World Trade Center.
Rigorous tests, including bomb-blast tests, prove that Armorcoat-treated glass stays in the frame under the most extreme conditions, keeping glass in place even in the worst storm conditions involving heavy wind debris and in powerful explosions. Government and business leaders are looking for new ways to protect their people and property. Armorcoat keeps office workers safe, reducing the number of insurance claims and hospital visits.
The safety film is available from Premier Window Films. For more information, readers should visit the company website: http://www.PremierWindowFilms.net or call 866 - 274 - 2769
###