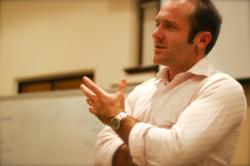 It's a common problem that does not mean a life sentence.
(PRWEB) February 17, 2013
Education expert and international speaker Jonathan Doyle believes that anxiety can be overcome with a range of simple yet effective modern strategies.
Speaking in a recent podcast on the power of stress and anxiety, the well known communicator outlined a range of effective strategies that were well received by a large global audience.
Doyle, who holds a Masters Degree in Education and is currently completing further post graduate work, states, "So many people live every day of their lives with crushing anxiety. In recent decades we have come a long way and there are now so many powerful tools available that can make a major difference in people's lives."
He states that among the most powerful new options are those offered by Cognitive Behaviour Therapy (CBT) and also the simple awareness that our lives are bigger than the things we build them around. Doyle continues, "I hear from a lot of people who are dealing with anxiety because some key aspect of life is not working out exactly the way they want. One young artist was stressed because she had not made her big breakthrough. I mention in my motivational podcast that this is what I call 'absolutizing' - a kind of all or nothing thinking where we fear our entire self will collapse if we do not reach some specific outcome. The key is to realise that even if we fail at some limited definition of success then that is not the end of our life. There is so much more that defines us."
Doyle goes on to explore other key issues that explain how to handle stress and how to manage anxiety but he constantly refers to the need to seek out trained professionals to help navigate the process of change. He believes that the magic of CBT is its ability to address unhelpful meaning structures that have developed from difficult life experiences and give them new meanings with the guidance of trained experts.
Doyle has delivered live seminars to over a quarter of a million people on issues such as relationships, leadership and motivation and remains a sought after conference speaker.