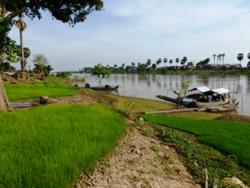 Cambodia's Rice Cropping Systems
Bangkok, Thailand (PRWEB) February 18, 2013
The Agronomic Website of Dr. agr. Volker Kleinhenz features his Curriculum Vitae, selected presentations developed during his employment for scientific, commercial and rural-development companies, several packages of cultivation practices for production of different crops, and multiple publications. While the section on his publications now includes his most recent scientific paper on a Survey of Rice Cropping Systems in Kampong Chhnang Province, Cambodia in HTML as well as downloadable PDF format, the section on pictures taken during his work has now been updated with a Saudi Arabia picture gallery.
Cambodia's rice-based farming systems are widely associated with low productivity, low farmer income and rural poverty. The Survey of Rice Cropping Systems in Kampong Chhnang Province, Cambodia analyzes the region's prevailing rice-based cropping systems and evaluates options for their improvement. Differences in cropping systems depend on the distance from the Tonle Sap water bodies. At distances greater than 10 km, transplanted wet-season rice cropping systems with low productivity of about 1.6 t/ha prevail whereas farmers in areas adjacent (≤ 1 km) to the water bodies predominantly cultivate directly-sown dry-season recession rice with yields averaging 3.2 t/ha. Commercial 'medium' cultivars help preventing crop failure by shortening the cultivation period in the wet-season rice cropping systems which should additionally be complimented with non-rice crops. Introduction of a second dry-season rice crop between April and July in areas close to the water bodies may double annual yields in this cropping system. The latter system can be further improved by upgrading other cultivation technologies including fertilization, and by using seeds from commercial sources, to improve yield and rice quality.
The new picture gallery "Saudi Arabia" includes images from intensive organic cultivation of date palms in this Middle Eastern country.
Volker's homepage also includes his continuously updated Curriculum vitae in HTML, DOC and PDF formats. Besides his assignments as a referee for international agricultural journals including Scientia Horticulturae, Volker regularly conducts telephone consultations on agricultural topics.
The above details are also available through Volker's LinkedIn profile and his German website at VolkerKleinhenz.de.