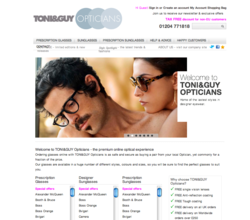 As a spectacle wearer since my childhood I've always understood the importance of having good vision and creating a total look. (Toni Mascolo CEO Toni&Guy)
London, UK (PRWEB UK) 19 February 2013
It has been 50 years since the first Toni & Guy salon opened, but the global SuperBrand has another reason to celebrate in 2013 − 10 successful years of its eyewear brand extension, Toni & Guy Opticians. The eyewear store distinguished itself from the high street competition in 2009 when it committed itself to exceptional value and began trading solely online. By focusing exclusively on offering a huge range of quality designer glasses and sunglasses at an unrivalled price, the company has gained a loyal legion of fashion forward followers.
Toni & Guy, the official sponsor to London Fashion Week and sponsor of many up and coming British fashion designers, has always believed that hair styling is an integral part of achieving a complete look. Its Hair Meet Wardrobe website demonstrates how the company has empowered its customers to express themselves through complementing their hair and fashion choices. Since 2003 Toni & Guy Opticians has given its customers the same opportunity to extend this expression with a critically chosen range of designer eyewear. Co-founder of Toni & Guy, Toni Mascolo, makes it clear that prescription glasses should be about so much more than correcting vision: 'As a spectacle wearer since my childhood I've always understood the importance of having good vision and creating a total look.'
As well as offering prescription glasses from renowned designers such as Alexander McQueen, Dolce & Gabbana, Jimmy Choo, and Tom Ford, an in-house range of designs from Toni & Guy Opticians, known as TONI&GUY Global, is also available. This range of innovative frames takes inspiration from vintage and contemporary classics, making high fashion eyewear affordable on any budget. The frames, named after towns and cities where Toni & Guy has salons, demonstrate the international appeal of the brand.
Quality and choice is not just restricted to frames when shopping at Toni & Guy Opticians as the lens manufacturer Essilor, creator of the world's first varifocal lens in 1959, provides a range of lenses that have been designed with the aid of cutting edge technology. The combination of high fashion frames and cutting-edge lenses from market leaders Essilor ensure fantastic views from both sides of the lens.
While people have become accustomed to an online shopping experience that is quick and easy, Toni & Guy Opticians has focused on creating resources that will help its customers maintain healthy eyes and choose the right glasses for their look and lifestyle through a series of online guides. From helping customers select frames that complement their face shape and, of course, their hair style and colour, to information about how to care for their glasses and eyes, the website has become so much more than just an online store.
While the ten-year anniversary provides an excellent occasion to reflect on how the company has grown, the looking back won't last long as Toni & Guy Opticians heads confidently into its second decade.
Brothers Toni and Guy Mascolo opened the first Toni & Guy salon in London, Clapham in 1963. During the course of 50 successful years and countless industry awards the company has grown to become the only global hairdressing SuperBrand, with 420 salons in 42 countries worldwide and 5000 employees in the UK alone. Toni & Guy Opticians launched in 2003, with an emphasis on providing customers with the same cutting-edge style that the hairdressing brand is known and loved for.