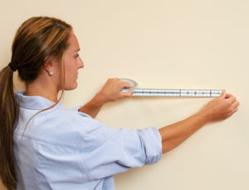 The measuring tape that sticks!
(PRWEB) February 18, 2013
The makers of Measure-It! a new adhesive measuring tape for home improvement, decorating and arts and craft projects, have teamed up with Advantage Sales and Marketing who will act as sales representatives in selected US hardware retailers.
"We are excited about helping to grow the Measure-It! brand in the U.S.", said Kathy Houston, Business Development Manager at Advantage Sales and Marketing of Smyrna, Georgia. "We we really like the Measure-It! product and its potential to do well in some of our key home improvement and hardware customers such as Home Depot, Lowes and others."
Advantage Sales and Marketing (ASM) has a successful track record in servicing and selling into many retail channels in the U.S. including Hardware. Their client list currently includes major brands such as Energizer, Rubbermaid and Unilever.
"We were very impressed with Advantage's wide range of capabilities and reputation", said Rob Botten, President of Bronto Marketing Group who have the exclusive marketing rights to Measure-It!. "We strive to partner up with well respected companies who have great relationships in their category and we're really happy that Advantage has agreed to work with us."
Already available in 12 States, Measure-It!, the self-described 'measuring tape that sticks' is putting itself in a good position to succeed. Since January, Bronto Marketing Group have expanded beyond Canada adding sales teams in the U.S. for mass merchandisers and now hardware.
Applied to the wall, floor or almost any other surface, Measure-It! acts like a third hand for DIY'ers when tackling their home renovation and home decorating projects. Measure-It! tape is very simple to use and can be helpful for many jobs including:

Hanging blinds or pictures
Painting
Room Layout
Drilling/cutting
Fabric measurement
Arts and crafts
Measure-It! can be used for almost any job where measurement is required. With no liner to remove, the tape can be put directly on almost any surface. The tape is low tack, which allows it to be repositioned several times and won't leave a mark when peeled off. Measure-It! can be marked with a pen, pencil or marker, torn off where needed, and the product is recyclable. Measure-It! appeals strongly to women who like to tackle DIY decorating projects.
For Measure-It! U.S Hardware sales inquiries, contact Kathy Houston at Advantage Sales and Marketing at 770 639-4659. For Canadian sales inquiries, contact John Burke at Dynamic Paint Products Inc: 905 812-9319 x325. Contact Bronto Marketing Group at 1 855 349-8273 or visit http://www.measureittape.com