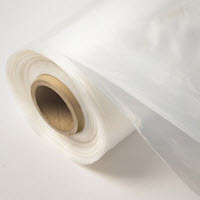 It's an environmentally friendly and cost-effective alternative to more traditional polythene packaging.
Witney, England (PRWEB) February 17, 2013
Brand Outreach have partnered with Polythene UK in order to gain media coverage for the businesses lightweight film. Brand Outreach are today reporting the environmental and financial advantages of Polythene UK's Polylite Machine Film, thinner and stronger than typical wrap at just 12mu, offering 40% more film per roll.
Joe Bragg, spokesman for Brand Outreach, explained the partnership, "We're working with Polythene UK to ensure as many businesses are aware of the Polylite solution as possible. It's an environmentally friendly and cost-effective alternative to more traditional polythene packaging. The sales team at Polythene UK are ready to answer any and all questions about the amount companies can save both financially and in terms of their carbon footprint. We just want to make sure businesses know to take advantage of this amazing innovation."
The product has just been fully restocked for companies eager to fulfill new year's resolutions to increase efficiency and environmental friendliness. Polythene UK is even offering to provide pallets on a sale on return basis to encourage new users to adopt the product.
A spokesperson for Polythene UK explained, "The great thing about the product is that it sells itself through all the advantages of the Polylite film- it makes smart business sense to adopt it, which means smart businesses are calling us every day to take up the opportunity. We've recently restocked so we can roll out the product to even more businesses throughout the UK. We are so confident businesses will love the product that we are allowing them to take it on a sale or return basis so there is no risk for them."
About Polythene UK: Polythene UK Ltd is an award-winning polythene supplier. Their friendly staff are there to provide customers with help and practical support to meet all of their packaging requirements. They offer clients the keenest prices thanks to their exclusive ability to provide clients with Polylite alternatives to standard polythene products. They also offer free advice as well as a quick response to all enquiries. For more information, please visit: http://www.polytheneuk.co.uk/
About Brand Outreach: Brand Outreach is a brand management business that boasts clients across the globe. Brand Outreach specializes in promoting and defending online reputations. They use traditional media channels as well as Social Media to grow brands and interact with customers target markets.