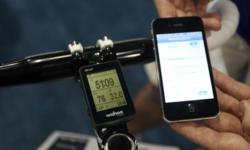 We think there will be a real big market for this product when it arrives in April because minus accurate power it does everything else at a great price point
Bozeman, MT (PRWEB) February 17, 2013
The new Wahoo RFLKT bike computer forms a very interesting and affordable option to the Garmin Edge 510 and it will be available April 1st according to the Heart Rate Watch Company.
THE BLUETOOTH SMART CONNECTION
The RFLKT works with any Bluetooth Smart (Bluetooth 4.0) enabled phone, though today only apps are available for the iPhone 4S and iPhone 5. It can pair with sensors like cadence and heart rate that are also Bluetooth Smart via the phone.
"Since the device relies upon Bluetooth Smart as the inter-device communication standard it won't sync to most power meters because they are all ANT+ for the most part", says Rusty Squire, President of the Heart Rate Watch Company. He adds, "For serious cyclists and racers that comprises maybe 2% of the cycling population this might be an issue but, for the other 98%, this device holds great promise and affordability".
There is one non-direct force Bluetooth power meter but it is a bit of a farce in that it cannot correct for environmental variables like wind, which makes them rather useless for higher level riders.
Fortunately, companies like Wahoo fitness already make Bluetooth Smart compatible chest straps like Wahoo Blue HR and even a bike speed and cadence sensor called the Wahoo Blue speed and cadence. "I think I'd skip the Velocomputer Bluetooth power meter for now as it has no way to compensate for environmental variables like wind and that is a huge consideration in the accuracy of your power data", says Squire.
WHAT iPHONE LACKS
iPhone has no barometric altimeter and, as Squire points out, "We have never found the GPS on an iPhone to be as accurate as a Garmin device". He adds, "Be that as it may the technology with Bluetooth Smart certainly brings the majority of cycling metrics into play at a fraction of the cost".
THE BIKE COMPUTER FOR THE OTHER 98%
Assuming one owns an iPhone 4S, iPhone 5 or another Bluetooth Smart enabled smart phone this device will receive all the other data metrics available through higher end bike computers. "A lot of the developer based apps still have quite a ways to go to catch up to a software like Garmin Connect but the question still remains is that worth three times the price?", says Squire.
"We think there will be a real big market for this product when it arrives in April because, minus accurate power, it does everything else at a great price point", says Squire.
The big question is will this technology be a Garmin killer? "Not yet, but it is certainly going to take a piece of their mid-market sales to be sure", says Squire.