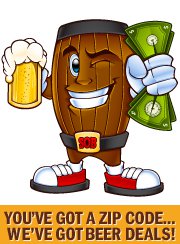 Beer lovers will use any excuse to sip a cold brew with their friends.
Houston, TX (PRWEB) February 18, 2013
President's Day is not notably one of the biggest drinking holidays in America. Yet, beer lovers will use any excuse to sip a cold brew with their friends, says Mark Davidson, founder of America's beer price search engine at SaveOnBrew.com. In fact, there are many presidential beers one may sample on February 18th.
Yards Brewing Company in Pennsylvania is considered the leader in President's Day beers. The microbrewery unearthed actual beer recipes from founding fathers George Washington, Thomas Jefferson and Benjamin Franklin to recreate what they might have drank more than two centuries ago. Their "Ales of the Revolution" series includes a George Washington Tavern Porter, a Thomas Jefferson Tavern (Red) Ale, and a Poor Richard's Tavern Spruce Ale.
21st Amendment from San Francisco also has a number of excellent President's Day worthy beers. Names include: Brew Free Or Die IPA, Bitter American, and Fireside Chat Winter Spiced Ale.
Then, of course, there is Founder's Brewing out of Grand Rapids, Michigan, which offers beers like Centenniel IPA, Red's Rye PA Ale, Pale Ale, and Porter. The Founders ethos is as follows: "Beers… crafted for a chosen few, a small cadre of renegades and rebels who enjoy a beer that pushes the limits of what is commonly accepted as taste."
Samuel Adams beer is a widely available choice for President's Day. While Sam Adams wasn't a president himself, there is no doubt that George Washington would have approved of their Maple Pecan Porter. Perhaps Thomas Jefferson would have liked the Red Ale. Best of all, company founder Jim Koch is a 6th generation American craft brewer, so many of the recipes were resurrected from pre-Prohibition Era brewmasters.
"If you're looking for something to do on President's Day, why not get together with your friends and brew up White House beer?" Davidson suggests. "Northern Brewer sells beer recipe kits for the White House Honey Ale and the White House Honey Porter."
Beer lovers can find local beer prices and additional craft beer suggestions at http://www.SaveOnBrew.com.
About SaveOnBrew.Com: Founded in 2010 to help thirsty beer drinkers across the United States find the lowest advertised prices for one of the world's most popular beverages.