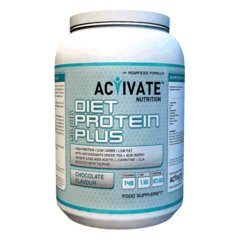 We have raised the bar with Diet Protein Plus
(PRWEB UK) 19 February 2013
Offering the highest protein content per 100 grams of any lean protein shake on the market, each serving provides 30.8 grams of quality, muscle building whey protein, whilst at the same time being low in fat and carbohydrates.
Packed with proven weight loss ingredients including green tea, CLA, L-Carnitine, taurine and acai berry, Diet Protein Plus offers an affordable alternative for people who want to lose weight but still tone up.
Mark McCall, Managing Director of Activate Nutrition said "We have raised the bar with Diet Protein Plus, maintaining a high level of quality that not only helps build lean muscle but can actively benefit a weight loss diet."
Fighting back after last year's government decision to add 20% VAT to sports nutrition supplements, Activate Nutrition was granted VAT exemption on its Diet Protein Plus due to its exceptional quality and ability to support weight loss, despite also being a protein shake supplement.
Mr McCall concluded: "Being granted VAT exemption for such a fantastic product has meant we can offer our customers even more value without scrimping on quality. We are continually looking at ways to lead in the sports nutrition field and proactively find out what our customers really want from their nutritional supplements."
"Diet Protein Plus is the first of our next wave of products due to launch in the coming months and we are excited to be able to offer it in such a competitive market."
About Activate Nutrition
Activate Nutrition is a sports nutrition supplement company based in Manchester, UK, specialising in high quality affordable supplements, including whey protein, Creatine and ZMA. Exclusively e-commerce based, Activate Nutrition is able to pass on savings directly to the customer, cutting out the middle-man and providing better value for money. http://www.activatenutrition.co.uk
For more information contact:
Paul Scott
Marketing and Communications
info(at)activatenutrition(dot)co(dot)uk