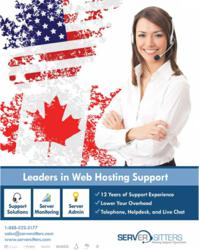 The continued expansion of our technical department clearly demonstrates our commitment to simplifying the partner experience
Austin, TX (PRWEB) February 17, 2013
Late Friday afternoon, Server Sitters founder and CEO Adam Gallant announced that the organization will now be providing a sophisticated remote infrastructure management service for all clients in the United States and Canada.
The remote infrastructure management service now being offered with Server Sitters guarantees customers a seamless experience for all their IT infrastructure management and customer service needs. This feature loaded service provides 24/7 e-mail, help-desk, chat & phone support services, along with IT infrastructure provisioning/management, proactive and reactive server monitoring; and much more.
"The continued expansion of our technical department clearly demonstrates our commitment to simplifying the partner experience, and offer more value to our growing client base with competitive pricing," Server Sitters CEO Adam Gallant said in a statement.
The best part of remote infrastructure management, apart from it being a top to bottom solution, is the premium level of customization a client receives within the service model. It enables the customer to map its service against a standard set of acceptable service levels. The client sets these service levels and the RIM team is built around such custom requirements specified by each customer. In short, remote infrastructure management delivers results that the customer needs, at a service level they demand!
The new model at Server Sitters satisfies small, medium and large business owners, in need of professional IT infrastructure management, product support and premium customer care. Some of the highlights of this new service at Server Sitters includes the following.
help-desk, chat & 24/7 phone support
Infrastructure, expert provisioning and top notch management
Proactive and reactive server monitoring
Dedicated manager with question & answer sessions to oversee operations
Server Sitters has been delivering 5 star technical support and software development solutions for over a decade. The technical support division at Server Sitters currently manages thousands of different websites, making it one of the largest outsourced web hosting support company in the United States. Server Sitters also offers design, development and testing services, allowing its clients to utilize Server Sitters expertise in virtually every stage of website/application development.
Monitoring using servers from all over the world, the professionals at Server Sitters understand that there is a lot riding on a websites up-time, and they take every possible preventative measure to ensure servers run smoothly for their clients.
Server Sitters is an outsourced support provider specializing in hosting support for web hosting companies that require help-desk support, live chat support and/or telephone support services.
For more information, call Toll Free: 888-522-3177, or simply visit http://serversitters.com/