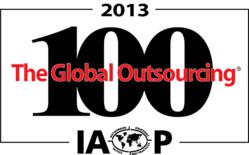 KING OF PRUSSIA, Penn (PRWEB) February 19, 2013
Ci&T, a Nearshore provider of value-driven web and mobile application services, today announced that is has been recognized in the Leader category on the International Association of Outsourcing Professionals® (IAOP®) Global Outsourcing 100®. This is the company's sixth appearance on the annual ranking and the second year it has been named a leader.
The 2013 Global Outsourcing 100 recognizes the world's best outsourcing service providers. The rank is based on applications received and evaluated by an independent judging panel organized by IAOP. According to Jag Dalal, managing director of thought leadership at the IAOP, "As applicants continually raise the bar and as the outsourcing industry continues to grow and mature in many markets, competition is tougher. Being named to The Global Outsourcing 100 is a great achievement, particularly given the strong competition, and we are proud to recognize Ci&T for its excellence."
In addition to the IAOP ranking, the organization has also asked Bruno Guicardi, Ci&T's Chief Operating Officer (COO), to share his expertise around the strategies and best practices for creating a high-performance software development team at the upcoming 2013 Outsourcing World Summit, Feb. 18-20, in Phoenix.
"Outsourcing has transformed from an assembly-line approach to a process-oriented culture, and as our industry strives to move away from the 'software factory' of the past, the development of high-performance teams should be focused on driving down costs and generating business value," said Guicardi. "Our high-performance teams are the backbone of Ci&T's success, and being named yet again to the Global Outsourcing 100 and having the opportunity to discuss the importance of these teams at the Summit supports their role in transforming IT outsourcing."
Guicardi's presentation, "Creating High-Performance Software Development Teams," will take place on Wednesday, Feb. 20, at 11:30 a.m. MT. To schedule a briefing with Guicardi at the conference, contact Ashleigh Churchward at 212.255.0080, ext. 12, or ci&T@articulatecomms.com.
About Ci&T:
Ci&T (http://www.ciandt.com) provides value-driven, Nearshore web and mobile application services and software product engineering. The company's high-performance teams employ agile methodologies and Lean principles to deliver innovative, value-generating projects for companies of all sizes, by leveraging the latest mobile, cloud and web technologies. A truly global company established in 1995, Ci&T is headquartered in Campinas, Brazil, with strategic locations across Latin America, North America, Europe and the Asia-Pacific region. For more information, visit http://www.ciandt.com
About IAOP
The International Association of Outsourcing Professionals® (IAOP®) is the global, standard-setting organization and advocate for the outsourcing profession. With more than 120,000 members and affiliates worldwide, IAOP helps companies increase their outsourcing success rate, improve their outsourcing ROI and expand the opportunities for outsourcing across their businesses. To learn more, visit http://www.IAOP.org.
About The Global Outsourcing 100
The International Association of Outsourcing Professionals® (IAOP®) is in its eighth year of compiling its annual ranking of the world's best outsourcing service providers and advisors – The Global Outsourcing 100. As part of The Global Outsourcing 100, IAOP also introduced a new list in 2009, The World's Best Outsourcing Advisors.
The Global Outsourcing 100 and its sub-lists are essential references for companies seeking new and expanded relationships with the best companies in the industry. The lists include companies from around the world that provide the full spectrum of outsourcing services — not just information technology and business process outsourcing, but also facility services, real estate and capital asset management, manufacturing and logistics. They include not only today's leaders, but tomorrow's rising stars.
The World's Best Outsourcing Advisors is geared specifically to companies that are outstanding global outsourcing advisors and consultants. In addition to being part of The Global Outsourcing 100, the new list of advisors ranks the top consultant, legal and related advisory firms globally, and is a valuable reference tool for companies needing expert advice and guidance with their outsourcing projects.
All product names, trademarks and registered trademarks in this document are the property of their respective owners.
Press Contacts:
Ashleigh Churchward
Articulate Communications Inc. for Ci&T
212.255.0080, ext. 12
ci&t@articulatecomms.com
Kate Tulloch-Hammond
IAOP Manager, Media & Communications
845.452.0600, ext. 122
kate.hammond@iaop.org