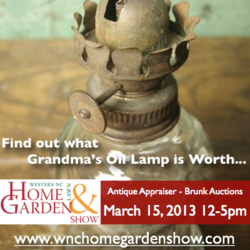 Asheville, NC (PRWEB) February 19, 2013
Nationally acclaimed antique auction house Brunk Auctions, as seen on Antique Roadshow, will be at the WNC Home Lawn & Garden Show Saturday, March 16th appraising antiques.
Antique appraisals will be included with a home show admission ticket. Admission to the show will be $7.00 daily or $15.00 for a 3-day pass. There will be $1.00 discount given with a can of food donation for Manna Food Bank.
Carry in your antiques or bring a high quality close-up photo to the show to have them appraised. Antique appraising will take place on the Lawn & Garden Level of the show during the hours of 12pm-5pm on Saturday, March 16th.
The home show will provide a secure location to store antiques during the appraisal hours on Saturday to allow attendees to explore the show. The WNC Home Lawn & Garden Show
For more information, please contact the show office at 828.255.2526 or email info(at)wnchomegardenshow(dot)com
Brunk Auctions is the leading fine art and antique auction firm here in the southeastern United States, headquartered in Asheville, with offices in Atlanta, Palm Beach, Florida, and Montgomery, Alabama. Specializing in fine paintings and original artwork, antique furniture, silver, jewelry, porcelains, fine libraries and carpets, our sales can be attended live in our gallery in Asheville, or by going to their website at http://www.brunkauctions.com. Bob Ruggiero was a twenty seven year member of the Appraiser's Association of America and has lectured at major Museums across the United States during his forty year career in the Fine Art and Antique world. Bob and his wife Dianne live on a farm here in the mountains of Western North Carolina.
The WNC Home Lawn & Garden Show is March 15, 16, 17, 2013 at the US Cellular Center in downtown Asheville. To like the WNC Home Lawn & Garden Show on Facebook.