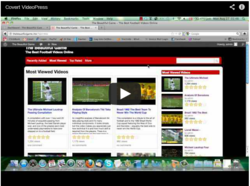 Leverage YouTube to siphon traffic to your own company website.
Louisville, KY (PRWEB) February 20, 2013
People spend more time watching YouTube videos than watching cable television. Now, using this video press plugin, businesses can stop being wallflowers and take advantage of video marketing without creating any videos. Create a YouTube themed website displaying shared and self-hosted videos with this new video press plugin.
SEO and web design service providers are always seeking inexpensive ways to drive traffic to their client's websites. YouTube is both a video portal, but also a major search and traffic engine. Additionally, Google owns YouTube so it only makes sense that they favor web pages displaying YouTube videos.
So how does one get into the video marketing game without sinking funds into hiring video professionals? What if the answer is to leverage other people's video productions? That's the genius behind Covert Video Press. Businesses maintain control of all the content while tapping into the YouTube psychology where visitors find videos, watch them, like and share comments and then look for more videos.
This new video press plugin allows businesses and marketing service providers to setup WordPress video portals with just a few clicks. Small to medium business owners who have postponed video marketing because they don't have the time, money or talent to create videos can use this video press WordPress plugin to funnel traffic without ever creating a single video.
Say "So Long" to high bounce rates and "Hello" to more leads and sales.
This innovative tool is an SEO marketer's dream. YouTube is the third most visited website in the world only beaten by Google and Facebook. The video portal is the second largest search engine in the world. More web searches are completed using You Tube beating out Bing and Yahoo. There is a huge pool of people searching for products, information and even just looking for a few minutes of fun using YouTube.
Find out how spending just a few minutes from now you could be running a YouTube style video blog siphoning in traffic like nothing you've seen before. Visit http://best.pageoneclicks.com/covert-video-press/
About IM Wealth Builders
Covert Video Press is a product from IM Wealth Builders Ltd. The company is owned by Soren Jordansen, John Merrick & Cindy Battye. Soren Jordansen. Soren is a former officer in the Danish army, who started his internet marketing career in 2004 – first as an affiliate, but he very soon started developing his own products and membership sites. John Merrick was a senior developer at Hewlett Packard in England and he has been churning out code since the long gone days of the punch card. Cindy is the company's queen of networking, JV and affiliate relations. The company primarily creates software, WordPress plugin solutions and information products for small to medium online businesses, independent internet marketers and affiliates.