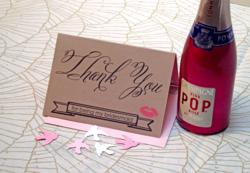 Every bride has people on her list to thank, and sometimes that task can become daunting. We're here to help.
Morristown, NJ (PRWEB) February 20, 2013
Sent-Well.com (http://www.sent-well.com), an online greeting card service, destination for custom stationery, and greeting cards, announced today the launch of its Wedding Party Appreciation Collection.
This collection features the Wedding Party Thank You Kit - a kit that contains Thank You cards for the Maid of Honor, Bridesmaids, Flower Girl, Best Man, Groomsmen and Ring Bearer. The envelopes are pre-stamped with Forever stamps. There are even suggested sentiments if she or her new husband are at a loss for words. This kit is a fun way for brides to show their gratitude to their friends and families who participated in their special day.
Additionally, in the Wedding Party Appreciation Collection, there are Thank You cards that Sent-Well can handwrite the couple's personal message of thanks, stamp and mail them to everyone on the guest list. For the bride who wants something a little more personal, she can have custom designed cards created from her wedding photos. There are many colors and themes to choose from, to give the cards a special touch.
"Weddings are full of bliss and stress" says Nicole Elizabeth, owner and creator of Sent-Well.com. "Every bride has people on her list to thank, and sometimes that task can become daunting. We're here to help. Whether it's a custom designed card, or our handwriting and mailing services, our goal is to take some of the stress away, so she can enjoy the newest chapter in her life!"
About Sent-Well.com
Sent-Well began as a way to help busy people stay connected. We believe people still love sending and receiving mail. Created to foster and enhance that experience, Sent-Well makes it simple to stay in touch. Life is demanding – sending cards should be simple. From letterpress to eco-friendly, sassy to sock monkeys, there is a card for every style and taste. Customers pick a card online, and can choose to have their personal message handwritten inside, stamped and mailed for them, if they like. The site offers email reminders for special occasions, and a card list to queue up all your cards for the year.