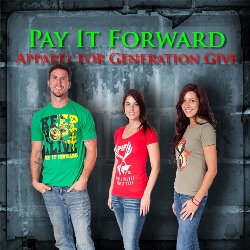 We want to connect people with organizations that align with their passions; we are not interested in convincing people on what they should be passionate about. That is not how you create true advocates…it does not promote sustainable change
Toledo, OH (PRWEB) February 18, 2013
With websites such as Charity Navigator and Guidestar growing in popularity donors are becoming much savvier givers, and giving trends may be shifting. The old model of charities that promote themselves as the "most recognizable" is being traded in for non-profits organizations promote transparency and frugality. One new apparel company recently launched a website that promotes smaller but more effective charities to the next generation of donors in hopes to make a more effective impact on positive change.
Pay It Forward, or PIF, is a socially minded t-shirt company that uses its clothing line to motivate, inspire, and educate its customers while also raising money for some much needed causes. The company uses its fashionable line of t-shirts to appeal to Millennials, a group it refers to as Generation Give. With every item that is purchased customers are required to select their favorite charity from a list of options that is provided by PIF. 25% of each item is then donated to the charity that customer selects. Each charity that is featured on the website is unique in terms of what they represent but all have at least a three out of four star rating with Charity Navigator, the most trusted non-profit evaluator.
PIF's goal is to teach customers that they should have a better understanding of who they give their money to. The company encourages their customers to take a "cause first" approach to charitable giving. The premise is that by first choosing a cause to support, rather than a particular organization, the donor will have the freedom to contribute to whichever organization allocated the highest percentage of the donation to the actual cause.
By promoting the importance of charitable giving, not just one particular cause, the company hopes to convert more people to true advocates for the various causes that it represents. "We want to connect people with organizations that align with their passions; we are not interested in convincing people on what they should be passionate about. That is not how you create true advocates…it does not promote sustainable change.", states the companies CEO.
As for the product, PIF Apparel designs all of their art work to represent their target market and promote Paying It Forward. All of the t-shirts are printed in the U.S. and all of the shirts are printed on high quality poly/cotton blend t-shirts for added softness and comfort. The items are priced at $23 and the company often offers promotions for multi-unit sales. Having only launched in August, the company is certainly still young but the support for early customers and the non-profit community may be a sign for great things to come.