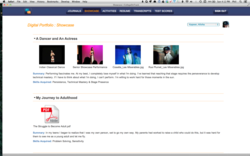 ...a state of the art Digital Portfolio that is comprehensive and easy to use.
Palo Alto, CA (PRWEB) February 18, 2013
Educators are increasingly turning to digital portfolios to help students present talents and abilities that might not show up well in transcripts and test scores. They also are talking about learning plans as a way to align classroom practices with Common Core requirements and improve educational equity. Those attending the AASA Conference will have a chance to try out CollegeOnTrack's unique solution to these issues.
As educators struggle to provide students with equitable and effective preparation for college and careers, they've seized on digital portfolios as a way to show what students have done with their knowledge and talents in real world situations. Formerly, students' only chance to tell such a story was the college application essay. But words aren't the easiest way to convey athletic, creative, or interpersonal abilities that are valuable to colleges and prospective employers.
CollegeOnTrack's Digital Portfolios help students present rich stories of their accomplishments, featuring video, audio, photos, and documents. In creating and refining these portfolios, students build college readiness by analyzing their activities to develop insight into the threads that tie their deeds together, and by presenting as a coherent whole what otherwise might look like unrelated projects and interests.
CollegeOnTrack's Learning Plans allow educators to build libraries of learning projects, with milestones and tasks, and reuse them easily. Learning Plans can be collaboratively developed; and can be categorized by whether they relate to STEM subjects or other areas, individuals or teams, specific grade levels, etc. This lets schools multiply the effectiveness of great course designers and support less experienced teachers. A video courseware library capability meets the needs of teachers working with hybrid or flipped classroom models.
CollegeOnTrack's ability to provide powerful tools in a comprehensive, simple to use form has drawn praise from educators. College and career counselor Ivee Cruz, at the University Laboratory School in Hawaii, says, "It is great to see a resource with everything in one place that is user friendly...". Former L.A. County Office of Education project director Bob Tyra says CollegeOnTrack offers "... a state of the art Digital Portfolio that is comprehensive and easy to use".
CollegeOnTrack's management will be in the company's booth (#716) at the L. A. Convention Center on February 21st and 22nd to demonstrate their education planning platform and answer questions.
About CollegeOnTrack
CollegeOnTrack is a web-based system that enriches the learning experience in middle and high school as it prepares students for college and successful careers. It offers a combination of rich digital portfolios, collaboration support, and task management that helps students build a mindset of success.
For more information about this topic, or to schedule an interview, contact Philip Roybal at (408) 782-4244, or phil(at)collegeontrack(dot)com.