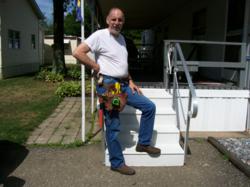 Erie, Pennsylvania (PRWEB) February 19, 2013
DIY Home Fix Tips is constantly on the lookout for helpful ways for DIY-ers to save money. Since it's inception, DIY Home Fix Tips has been dedicated to supplying information that DIY-ers can use that will help them save money.
In a recent post, Diy Home Fix Tips announced that Ambit Energy started saving them money on their energy bill.
Ambit Energy has just announced that they have opened 4 new areas of service in Pennsylvania.
That same announcement shows Ambit's intention of opening more new markets in March of 2013.
These announcements, along with the fact that Ambit lowered their rate for gas service in the Erie, Pa area, attest to Ambit's intention to stay competitive and it's commitment to further expansion into new territories.
Brian, the blogs editor, informs that they are about 1/2 way to getting free energy with Ambit's free energy program.
For the full update, check out the blog at DIY Home Fix Tips.
About DIY Home Fix Tips:
The DIY Home Fix Tips blog treats their readers to quality, no bull info, tips, advice, videos and helpful product ideas related to DIY home repair. Brian Whiteman, the blog's author, has spent over 35 years designing, building, remodeling, and repairing residential homes. Mr. Whiteman is still active in repairing homes in the Erie, Pa. area. For more information about DIY Home Fix Tips, please visit http://www.diyhomefixtips.info.