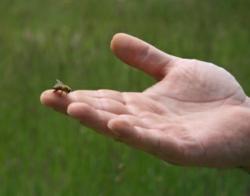 Colville, WA (PRWEB) February 18, 2013
Apex Apiaries, a honey-producing beekeeping operation in Washington State, announced a Kickstarter-like campaign that will help fund its growing community of hives.
The owners and nascent beekeepers, Rudy Kearney and Jeremy James, are currently raising funds to educate local hobbyists, schoolchildren, and others in coordination with other agricultural efforts in the area and through local agricultural education organizations.
The owners' interests include the establishment of new hives, community education about beekeeping, formal research into the uses of beekeeping (for instance, the use of small-cell beekeeping to combat mite infestations), and the use of enclosed hives for demonstration of the hives' inner workings to schoolchildren.
Kearney and James are offering a tiered set of incentives for bee lovers to contribute to their fundraising campaign. "On the reward front, everything will be bee-oriented, of course," said James, "with a heavy focus on products from the hives that are established as part of this project. Everyone who donates will get regular project updates."
For the donations listed below, there are corresponding and expanding rewards.
$10 Two tubes of lip balm handcrafted from Kearney and James' own hives. (Eat your heart out, Burt's Bees!)
$20 Two tubes of hand-crafted lip balm, a packet of bee-friendly flowers, and a mini-bear full of raw, natural honey.
$40 Two tubes of lip balm, bee-friendly flowers, and a decorative jar full of half a pound of raw honey!
$60 Everything from the $40 tier, a second jar of honey, a commemorative mug, and a hardwood honey dipper.
$80 Everything from the $60 donation, a pair of hand-made beeswax taper candles, and Kearney and James will name a queen after you. You'll also get a picture of her in action!
$120 Everything from the $80 tier and two quart jars of raw honey, weighing in at a whopping six pounds.
$200 Everything from the $120 tier, and you'll get to adopt and name a hive in one of our teaching apiaries. Apex Apiary will place a commemorative plaque on the hive with your name on it, thanking you for the donation. You'll receive in-depth updates and pictures from your hive and a special surprise out of the hive!
Interested donors should visit http://apexapiaries.com/ and click on "Help Support Our Expansion!"