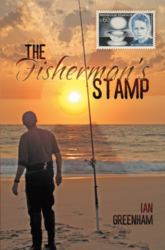 (The book) transforms news headlines into a gripping story of suspicion, greed and subterfuge.
NEW YORK CITY (PRWEB) February 20, 2013
The world held its breath when a magnitude 9.0 earthquake struck just off the coast of Japan, producing towering tsunami waves killing thousands and severely damaging the Fukushima Dai-ichi nuclear power plant. The resulting meltdown forced the evacuation of thousands of people and prompted re-evaluation of nuclear power programs all over the world, as fears of radiation contamination spread, notes the author in this new novel inspired by the disaster. A chance meeting in Bordeaux, France, sets off a dramatic chain of events nobody could have predicted.
"The Fisherman's Stamp" transforms news headlines into a gripping story of suspicion, greed and subterfuge. Scientists work to create a medication to protect humans against radiation exposure, but their efforts fall flat until they discover a retired nuclear power worker in France suspected of having a natural resistance to nuclear radiation.
As word of the discovery spreads, danger from corporate espionage closes in, with millions of dollars and national security issues at stake. Abductions, thefts of scientific material, a key political figure's exposure to radiation, and disputes over scientific patents scar the trail in the pursuit of a viable anti-radiation medication. Ultimately, the complex genetics involved are the greatest hurdle of all.
Author Ian Greenham's three decades in international banking disclosed the seamy side of the corporate financial world which darkens the backdrop of the novel's subplots. A native of Melbourne, he worked with a leading Australian law firm on trade practices and environmental law before serving in the country's diplomatic service, and then being recruited by a major U.S. bank, with assignments following in Sydney, Hong Kong, Singapore, London and New York, where he now lives.
----------
For additional information, please visit http://www.iangreenham.net.
The Fisherman's Stamp
Ian Greenham
Dog Ear Publishing
ISBN: 978-1-4575-1680-1
296 pages
$22.45 US
ISBN: 978-1-4575-1535-4
296 pages
$10.95 US
Available at Amazon.com, Barnes & Noble and Ingram.
About Dog Ear Publishing, LLC
Dog Ear Publishing offers completely customized self-publishing services for independent authors. We provide cost-effective, fast, and highly profitable services to publish and distribute independently published books. Our book publishing and distribution services reach worldwide. Dog Ear authors retain all rights and complete creative control throughout the entire self-publishing process. Self-publishing services are available globally at http://www.dogearpublishing.net and from our offices in Indianapolis.
Dog Ear Publishing – self-publishing that actually makes sense.