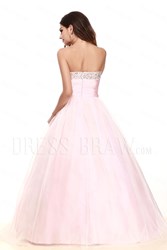 The promotion lasts 10 days only, from today to Feb. 28, 2013.
(PRWEB) February 18, 2013
DressBraw.com, a leader in the wedding dresses industry, announces their new collection of Designer Prom Dresses available now at deeply discounted prices. The promotion lasts 10 days only, from today to Feb. 28, 2013. All customers can enjoy this special offer, up to 70% off, during this period.
There are total 1828 items in this new collection, and they come in various styles and colors. No matter cheap junior prom dresses or sexy V-neck prom dresses, DressBraw.com has something for everyone.
DressBraw.com is known for its quality unique products and low prices, and there is no exemption for the dresses in this promotion. These cheap designer prom dresses stick to their reputation as well.
A source from DressBraw.com says, "All the dresses are available in 4 colors and from size 2 to 16 and 14W to 26W. Low prices don't mean low quality. We use the best sources for all our products, and our strict quality check ensures that the products meet international standards."
In addition, DressBraw.com offers thousands of wedding dresses, bridesmaid dresses, evening dresses, and other special-occasion dresses. Each dress is a price of art, and masterfully crafted. DressBraw.com has promised to spare no energy to provide a great range of products for costumers as well as fast delivery.
About DressBraw.com
DressBraw.com is one of the leading suppliers of wedding & special occasion dresses from China. All the dresses they are selling are made from top quality materials and go through rigorous inspection. They have an elite team with professional skills and unlimited creativity in dressmaking.
For more information, please visit: http://www.dressbraw.com/?utm_source=content&utm_medium=news&utm_campaign=index