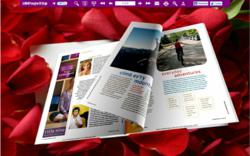 (PRWEB) February 18, 2013
Today, 3DPageFlip.com announces an update on its website, and a demo has been added to demonstrate its new digital magazine software, 3D PageFlip Professional. 3DPageFlip.com is a leader of flipbook software, and its website offers in-depth reviews, discounts and coupons, for all its flipping book softwares.
The demo educates users how to convert PDF documents into a realistic flipping book with a 3D page turning effect; how to create specially interface designs for a flip book (including toolbar with your logo, eBook author information and flip effect); how to publish a 3D flash page flip book to HTML, and so on. The demo aims to show people with the realistic 3D Flash effects and stunning page turns.
"We hope to show our product completely through such a demo, and the 3D page turning software is absolutely a new idea in the whole industry. Now, we show our claimed value propositions right here and right now," says, Sharry Hou, CEO of 3DPageFlip.com. "3D PageFlip Professional is especially suitable for editors, publishers, and other 3D flash lovers. It lets users quickly review the motion and timing in an animation. You can also call one of our customer service representatives and they will explain more in details."
The most charming advantage of this page flip software is that it can make an attractive 3D flash effect, improving the optical effect of page flip obviously, from a single dull moment to a fantastic visual feast. Moreover, people can read a flip book in 360 degree vision by dragging eBook to rotate and spin.
About 3DPageFlip.com
Established in 2008, 3DPageFlip.com is a professional provider of flip book creators, which can convert from many major document formats (like Word, PowerPoint, Images, and so on) to a flipping book in few minutes.