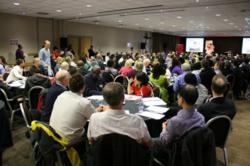 It is indeed frustrating to know that despite the effort of the government to offer better lending policies for buyers, they still can't solve the root of the problem—which is deposit
(PRWEB) February 18, 2013
The UK property market has seen an increase in sales in the last four months due to the Government's Funding for Lending scheme. Despite the increased activity, property experts are concerned how lofty deposit requirements are still preventing would-be first-time buyers in getting into the ladder. This is among the reasons why property innovator, Rick Otton, is coming back to London this April and conducting his 3-day property conference.
"It is indeed frustrating to know that despite the effort of the government to offer better lending policies for buyers, they still can't solve the root of the problem—which is deposit," UK property expert Rick Otton said. "The Government's funding for Lending scheme just patches things up. In order to create a progressive property market, the cause of the problems should be addressed, and there are many systems and tools that will guide people to invest in the property market today."
Mr. Otton has been teaching progressive property investing techniques that solve real problems encountered by buyers and sellers, including hefty deposit, loan requirements, interest rates, etc.
Mr. Otton explained that "Traditional processes often create problems. But I'm into solving problems, and creating processes that solve problems by default. I'm always finding easier and more efficient ways of doing things. I'm always asking, 'Why does it have to be hard?' The answer is: 'It doesn't. It can be easy. There's always an easier way'.
Rick Otton's Zero Debt Property Cash Flow Conference will answer not just the problem of lofty deposit but as well as other property investing problems such as:

buying without a bank loan
turning negative gearing around to positive cash flow
selling when the mortgage is worth more than the house, without needing to write a cheque to cover the difference
creating stepping stones to help everyday people get into home
ownership
profiting from renovations without lifting a finger
Otton's 3-day property conference has helped turn the lives of thousands of individuals, "Rick Ototn's zero debt cash flow conference is more than just about property. It teaches you practical life skills and potential transactions that could easily payback for many years to come. Great content, interest, energy, and value for money," said Lee Turner, one of the many who has come to the conference.
Download Rick Otton's free power property pack to get an overview of what he will discuss when he comes to the UK this April: http://www.rickotton.co.uk/
About Rick Otton
Rick Otton has spent decades making money by snapping up inexpensive real estate and putting it to work building wealth. Now, he's teaching other Aussies how to do the same.
Otton is the founder and CEO of We Buy Houses, which operates in the U.S., U.K., Australia and New Zealand putting his strategies to work every day.
Otton got his start in alternative real estate investment in 1991 and within a year acquired 76 properties. In years after, Otton made a fortune using his low-risk, high-reward strategies to inexpensively acquire real estate.
Now, Otton wants to share the wealth by sharing the wisdom, teaching Aussies how to buy and sell real estate without cutting banks and other middlemen in on the deal.
Otton has been featured in a variety of television programs and magazines, including Today Tonight, A Current Affair, Australian Property Investor and more.
You can learn more about Otton and how to invest in residential real estate without using banks at RickOtton.co.uk