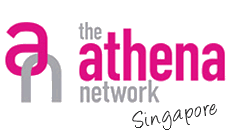 At the Athena Network we believe that professional development and entrepreneurship training should be accessible to all women regardless of geographical location, race, education and financial standing - Gina Romero
Singapore, Singapore (PRWEB) February 19, 2013
As part of Social Media Week, Diageo, the world's leading premium drinks company, has offered a prize of $10,000 to a Singapore-based project that supports their US$10 Million 'Plan W' initiative to empower 2 million women in Asia pacific by 2017.
In response to the initiative, The Athena Network Singapore, Asia's leading community for female executives and entrepreneurs, issued #planwAthena - one of the three shortlisted projects competing for the $10,000 prize. The Athena Network's #planwAthena project seeks to create an online knowledge network to promote social mobility through education and entrepreneurship.
"At the Athena Network we believe that professional development and entrepreneurship training should be accessible to all women regardless of geographical location, race, education and financial standing" said Gina Romero, Managing Director, The Athena Network Singapore and panel speaker at Social Media Week.
"Our mission is to develop an online community platform that enables our members and other female executives and entrepreneurs to empower women who do not have access to essential information, resources and support" the Athena MD added.
Recent research by Diageo shows that even though women carry out two thirds of the world's work, women only earn 10% of the income. Trends reveal that one billion women will enter the world economy in the next 10 years, and Diageo are investing in the infrastructure to give women the tools and resources needed to succeed.
The competition takes place over Social Media Week between10am on Monday February 18th and 2pm on Friday February 22nd. To participate, supporters should tweet #planwAthena everyday for 5 days. Results can be tracked at http://www.theathenanetwork.com.sg/planwathena. Winners will be announced on Friday.