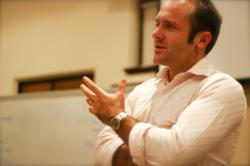 Time is the only resource we all have the same amount of.
(PRWEB) February 19, 2013
International motivational speaker Jonathan Doyle has released a new podcast exploring the manner in which the ability manage time is crucial to success.
Doyle, who has delivered live seminars to over a quarter of a million people believes that a lack of focus and discipline in how time is perceived and used by individuals can create major problems in their desire to make changes in their life.
He states, "Time is the only resource that we all get the same amount of. We all have different levels of talent, academic giftedness and other traits but no matter who you are you still get the same number of hours each day. Unfortunately, the massive growth in complexity, distraction and technology in our lives means that many people are allowing large parts of their lives to go unaccounted for."
In a challenging motivational message to his large subscriber base he makes the point that the sheer volume of entertainment options means that many people lose several productive hours per day between their use of social media, Internet, television and gaming use.
He also stated, "It's not about going back in time and having no entertainment options and just working all the time but many of the ways in which people developed their character and intellect in previous generations are under threat. If we began to reflect upon what a real gift each moment, each day really is, then I wonder if we would become a little more aware of exactly where our time is going"
Doyle believes that one of the keys to effective time management is the theory of working in shorter bursts of intense activity punctuated by restorative breaks. He states, "There are so many powerful new ideas about how we use and manage our time. If only we were more aware of where our time goes and how we could channel it more effectively."
The podcast in its entirety can be found at http://www.jonathandoyle.co